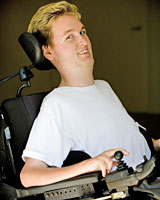 Ryan Leitch's disability might have stopped him from going on his school geography field trip to Tongariro last year - but it was no barrier to getting top marks in the subject.
The North Shore 18-year-old, who is in a wheelchair because of spinal muscular atrophy, topped the world in geography in the November round of the Cambridge International Exams.
It was a double honour for Ryan, who also topped the subject in the exam round a year earlier.
He will be among 76 students acknowledged at a national awards ceremony this month.
While Ryan could not say why he was so good at geography, his proud mother Judi Davidson said the secret of her son's success was simple.
"It's just his passion," she said.
Ryan, in Year 13 at Westlake Boys High last year, said his physical condition made studying "a bit more difficult" but with a full-time teacher aide, specialist technology and a healthy dose of determination, limitations all but disappeared. He studied from other students' notes to catch up on the field trip that his condition prevented him from joining.
A visit to world-famous cosmologist and mathematician Professor Stephen Hawking - who is also in a wheelchair - in Britain in 2005 proved inspirational.
"It was good - cool," Ryan said. "To see that he was still able to do all these great things."
Ryan got University Entrance in Year 12, but stayed on at school because he liked it. He is due to start studying geography at Auckland University in a few weeks.
Westlake principal Craig Monaghan said Ryan was more than just a scholar, as a prefect last year he was mentor to other students.
"I asked a boy who he looked up to most - it was last year - if he could name anyone in the world that he looked up to most. Ryan was it," said Mr Monaghan. "We are very, very proud of him - he's overcome such difficulties in his life."
The Cambridge exams are offered by more than 50 schools in New Zealand, many having adopted them as an alternative to the National Certificate of Educational Achievement.
The international exams are offered in many countries, including some in the Third World, however because local students sit the exams in November sessions, they do not compete with students in most Northern Hemisphere countries, who sit their exams at a different time.
Spokesman Simon Higgins said more than 9000 students sat the exams in the November round.
The "top in the world" honours were gained by 36 New Zealand students.
John Li Chen, a Year 11 student from King's College, achieved particularly outstanding results.
As well as getting first equal globally in IGCSE English literature and top in IGCSE physics, he also was first in AS maths, a qualification usually sat by Year 12 students.
Jonathan Choie, of King's, and Arkesh Patel, of Westlake Boys High, both earned two top in the world marks.
Association of Cambridge Schools in New Zealand chairman John Morris said the latest results had more top in the world marks than a year earlier.
"This is a real endorsement of the talent that New Zealand students have," he said.