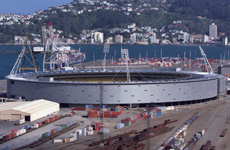 Wellington's salt-laden air is taking its toll on Westpac Stadium, with corrosion discovered on its external walls.
Engineers have been called in to assess the extent of the problem at the $130 million eight-year-old waterfront venue.
The problem is believed to be linked to use of the wrong screws and bolts in the original design.
Wellington Regional Stadium Trust chief executive David Gray said yesterday he was confident most of the work needed would be covered by warranty.
"Some of the screws have rusted that are holding in some of the panels and they have to be replaced," he told The Dominion Post.
"I just think it's part of owning a fairly major building on the edge of the waterfront."
Mr Gray said a "huge amount of work" was done in the planning stages on what products would withstand conditions at the stadium "because everyone was aware of the environment".
"That's why we got warranties to ensure that they did the job and that's why we're confident that we've got it covered."
The rust was detected during maintenance checks about six months ago.
An investigation into how extensive the problem was would take several months, Mr Gray said.
- NZPA