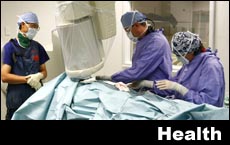 Thousands of patients with potentially serious health conditions are waiting longer than medical benchmarks stipulate to be seen by a doctor at hospital emergency departments.
In the three months to June 30, nearly 7000 "triage 2" patients nationally waited longer than 10 minutes to be seen. People in this priority assessment category are critically ill or injured. They may have serious chest pain likely to be from a heart attack, difficulty breathing or be suffering severe injuries.
Under the benchmarks, published by the College of Emergency Medicine and used by the Ministry of Health, 80 per cent of triage 2 patients should be seen by a doctor within 10 minutes; but in the June quarter, only 65 per cent were. The Waitemata, Waikato and Canterbury district health boards were the worst performers, on 48 per cent.
Triage 1 patients, including those whose heart has stopped beating, are at imminent risk of death; all of them are meant to be seen immediately. Triage 3 includes those with head injuries but who are conscious, and people with major bleeding; 75 per cent should be seen within 30 minutes.
The June quarter figures were given to the National Party by Health Minister Pete Hodgson but several health boards failing in triage 1 performance say the data is wrong.
The Health Ministry said last night the apparent triage 1 failings were "largely" related to information-system problems and the correct data would be released next week.
National's health spokesman, Tony Ryall, questioned why the errors came to light "only when the National Party starts asking questions".
"They can argue all they like over the data errors, but the public knows that these hospitals are not working well and people are languishing in emergency departments. No amount of bureaucratic jibber jabber can hide that fact.
"Triage 2 and 3 are still quite serious situations and they are not being dealt with anywhere near the best-practice benchmarks."
As well as these "front-door" delays, many emergency departments often have problems with overcrowding, leaving patients waiting for long periods for admission to other parts of the hospital.
North Shore Hospital has had problems this winter with some patients waiting many hours or even days for admission to a ward.
Its general manager of adult health services, Rachel Haggerty, said yesterday that the overcrowding of the whole hospital had eased for the past 10 days. This was partly due to the surgical-recovery unit now being open overnight as well as in the day and partly because of warmer weather. The hospital was also opening extra beds.
She said triage 2 and 3 patients' care was not affected significantly by waiting longer than the benchmark.
The Counties Manukau board's chief operating officer, Ron Dunham, said there were no excuses for the triage 2 and 3 delays at Middlemore Hospital, although patients outside the seen-by-doctor times were still under nursing care. The hospital was devising schemes to ensure patients spent not more than six hours in the emergency department.
By Martin Johnston

Email

Martin