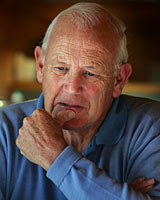 Don Jefferies is no stranger to losing money to finance companies.
But the Auckland pensioner was particularly aggrieved when Bridgecorp was placed in receivership on Monday night just a few days after he had invested $5000.
Mr Jefferies, 67, suspects the company knew it was in trouble when he put his money into secured debentures and has made a complaint to the Commerce Commission.
Bridgecorp owes about half a billion dollars to 18,000 investors like Mr Jefferies. He and his wife, Patricia, are retired and live off interest from their investments.
"Reading the commentaries, anybody in the finance sector seems to know there was a hell of a lot of problems," Mr Jefferies said.
"It's what I call bunny money - you sucker in some last people to try and see if you can save the inevitable. If Bridgecorp was going under ... they should have frozen the money.
"Don't bank it, don't do anything with it."
Mr Jefferies thinks he lost about $20,000 in investments following the collapses of Western Bay Finance and National Finance 2000 last year.
He had invested $10,000 to $20,000 in Bridgecorp over the years, but was thankful he had withdrawn most of it before the collapse this week.
When he went online to check the state of Bridgecorp early last week he found its financial rating was stronger than most other finance companies.
He wrote out a cheque for $5000 on Wednesday and got an investment certificate from Bridgecorp on Thursday.
"I thought I knew what I was doing. And I thought the rating system would give me an indication. It wasn't as if I was gambling. I was just trying to be prudent."
Mr Jefferies has no idea if he will see any of his money back from Bridgecorp.
Bridgecorp trustee Graham Miller said it was possible Mr Jefferies' money had gone straight into trust and could be returned to him in full, but other issues could determine this.
PricewaterhouseCoopers, the receiver, was yesterday working through information from Bridgecorp and planned to write to investors.
The company's Colin McCloy urged Mr Jefferies to get in touch with him. He said it was possible he could assist, but needed more information.
A Commerce Commission spokeswoman said it had been contacted by many other Bridgecorp investors, but people would have to prove the company knowingly misled them.
By Jarrod Booker

Email

Jarrod