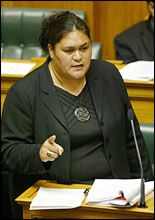 Political editor Audrey Young continues her series on newly promoted Cabinet ministers and their views on their portfolios, influences and the nation. Third in the series is Nanaia Mahuta.
What are the most pressing issues in your portfolios?
In Youth Affairs, to promote the youth development strategy, to support the roles of youth workers, to get greater collaboration across services that intersect with youth, put youth at the centre of decision-making but most of all, find ways to really grow the potential of young people in New Zealand.
In Customs, there'll be a greater emphasis on the law and order aspect of the work that we do at the border. The stopping of drugs at the border is a very big issue.
How different has life become since you've become a minister?
Busier. The workload has increased 10-fold, 20-fold. There's a lot of reading.
There are a lot of briefings. Just 10, 20 times busier.
What about personal life?
When you represent an electorate, being an MP becomes a way of life because you have to be quite connected to people. In a ministerial capacity, the workload increases and the obligations in terms of your time increases.
Where do you get your most valuable advice?
A wide range of contacts both at a personal and professional level. A good measure of common sense helps. I'm not the kind of person who jumps in quickly unless I've really assessed the situation.
Who do you think is more powerful, the politicians, the press or the public service?
None of them. Probably public opinion with maybe a bit of all the rest. I think we have seen on a lot of issues that public opinion has tended to take issues in a direction often that are gut instinct and then the politicians and public service and media get involved.
Who was the biggest political influence on you before you got to Parliament?
Clearly my father [the late Sir Robert Mahuta, Tainui leader] more for the experiences we were exposed to throughout our childhood and then there were a number of individuals all along the way. To be exposed to decision-makers at a young age had an impact.
How did you get involved with Labour?
A woman who has now passed away who was a mature student of mine when I was tutoring [Maori studies] at Auckland University asked me to go to a meeting and that meeting happened to be the Owairaka branch meeting and it was one of those occasions when Helen Clark was able to get back into the electorate, do an MP's report and she talked about where she saw the state of political play. She offered some thoughts on the future and what I remember was that education was the key part of lifting the opportunities for New Zealanders.
Who do you think was the most successful Labour leader, except Helen Clark, and why?
David Lange. I'm in a new generation of Labour membership and for New Zealand to be identified in the world forum as being quite courageous in terms of some of the steps we were prepared to take, the nuclear-free one, was a courageous step given the political context.
Is there a foreign political figure who has influenced or inspired you - except Nelson Mandela?
Just recently in India Sonya Gandhi, the fact that she won the election then decided not to take the leadership but remained the leader of the [Congress] party was quite inspiring because she was able to have influence without prominence and could see a bigger picture. That was inspiring and courageous.
What is the most memorable election you have fought and why?
They've all been memorable for different reasons and a challenge. Every election since 1999 I've fought against a sitting MP: in 1999 it was Tuku [Morgan], in 2002 it was Willie Jackson and this last election it was a different set of factors [against the Maori Party]. I've not ever felt that I've not had to fight an election.
What was the last private member's bill you had in the ballot?
The Legal Aid Territorial Customary Rights Amendment Bill. It was pulled out of the ballot before the election then it was carried over after, and because I became a minister, I was unable to continue sponsoring it. [List MP] Shane Jones picked it up and the bill was then released [dropped]. It set out to provide legal aid to groups going to the High Court to seek a territorial customary right and it was one of the outstanding measures I thought needed to be addressed in the changes to the Foreshore and Seabed Act.
How could that have got through the Labour caucus because it would have breached Labour's agreement with New Zealand First on the foreshore bill?
It didn't go through the caucus. I put it in the ballot as a private member and it got picked. Maori caucus were aware of the intent.
What advice would you give a backbench MP aiming to get into the Cabinet?
That's a hard question. Nobody gave me any advice.
Well do you have to be a greaser to get into the Cabinet?
It has not been my experience. As our society becomes more diverse, and public opinions seems to impact quite a bit on politics, you need representation that can reflect the fabric of our society and you need that in Cabinet as well.
You have the image of a rebel over the Foreshore and Seabed Bill but you actually voted for it.
Having secured gains for the electorate, having been able to take that back and clearly put my own mandate on the line by coming off the Labour list, I think I used the political process, legislative process as best as I could to effect the necessary changes to that particular act which better aligned [it] to something we could live with. I made it clear in my third reading speech that I made the decision as an individual knowing the electorate did not have the opportunity to consent in the final instance to the final shape of the bill. So I was prepared to put all of that on the line at this last election and I did and got voted back in to do some more work.
Was it ever suggested that if you voted for the bill there might be promotion ahead for you?
No.
Do you think the New Zealand flag should be changed?
I'm pro-republic and I think we need to find a flag that better represents something all New Zealanders can aspire to and be proud of.
Do you look forward to Waitangi Day?
Yes. Every year. And if when I have my relations in Australia report how they have celebrated Waitangi Day, it gives you a lot of optimism about what might be achieved here in New Zealand. They have big celebrations in Brisbane and Sydney and all the Maori and all the New Zealanders get together and just celebrate being Kiwis in a foreign country. So we've got something to learn. People get quite distressed that they can do that over in Sydney and wonder why we can't make it happen here in New Zealand.
What are you doing to unwind this summer?
Go walking, see friends, listen to loud music. I've just got James Blunt and Conscious Roots, I've just bought the CDs.
NANAIA MAHUTA
Age: 35
Portfolios: Youth Affairs, Customs, Associate Minister for the Environment, Associate Minister of Local Government.
Family: Married.
Work history: Elected as Labour list MP in 1996, then Te Tai Hauauru electorate in 1999 and Tainui in 2002 and 2005. Formerly a student and tutor in Maori studies at Auckland University.
By Audrey Young

Email

Audrey