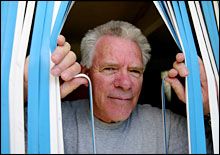 A man gave police the name and phone number of the thief who stole his work van - but more than five weeks later no follow-up action has been taken.
Police say his case is an illustration of their case load crisis, which includes 600 files sitting unassigned in the Auckland City district alone.
Charles Simms had his van stolen from his front lawn in Pakuranga on September 23 this year. It was unlocked but the keys were not in it.
His detective work led to the alleged thief, his accomplice and phone numbers for both. Mr Simms says he passed these on to police, but nothing has been done.
Mr Simms says his cellphone was in his van when it was stolen and he called it. A man with a Pacific Island accent answered before being told by a woman to "hang up, hang up".
Mr Simms called Vodafone saying his cellphone had been used by his son and he needed a record of the numbers called.
"I figured if I reported it stolen they would have told me nothing."
From the phone records Mr Simms started calling cellphone numbers the alleged thief had called, saying he was looking for a Pacific Island man.
He eventually found a woman who gave him the name of the person he was looking for.
"She said he went around looking for vans to steal, taking stuff out of them and stashing it at his girlfriend's house."
Mr Simms, a gib stopper, got his van back a few days after it was stolen.
It had been dumped, minus everything in it, including his cellphone and he had to pay a towing fee.
He said he contacted Papakura police with the man's name and phone number but police had never followed it up.
"They kept saying they would pass it on to the sergeant. They said they had 200 cases to look at."
"I feel very sorry for New Zealand because the best trade is not the one you're in, crime pays."
He said he felt sorry for the police also because it was a lack of resources which meant his case was shelved.
Papakura police Senior Sergeant Andrew Judson said it was an illustration of the case load crisis police were facing.
He said the file had been sent to Otara police and would have been prioritised along with all the other cases police were dealing with.
CASE-LOAD CRISIS
The Weekend Herald revealed on Saturday that overworked Auckland City police have formally decided to "suspend or abandon" investigations of many everyday crimes. Their official scale of priorities include:
Mandatory services
Responding to ministerial correspondence
Responding to parliamentary questions
Sudden deaths
Critical services
Home burglaries
Homicide
Serious drug offences
Priority services
Vehicle theft
Family violence
Child abuse
Robbery

Discretionary
Commercial burglaries
Theft from cars
Company fraud
Shoplifting
By Nicola Boyes