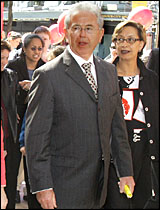 The Treasury's costing of Labour's interest free student loan policy predicted it would increase government debt.
It also said the total cost would be far higher than figures later given out.
Finance Minister Michael Cullen was ordered to release the documents today by Chief Ombudsman John Belgrave.
They further say that, under the first set of costings, voluntary repayments would cease -- "under this scheme there is an incentive to repay debt as slowly as possible".
Dr Cullen had refused to release the papers but did so after National successfully appealed to the Ombudsman.
The first set of figures predict uptake of student loans would increase to 95 per cent for full time students by 2008.
It predicted an increase of debt of 0.19 per cent of GDP. The total debt would rise to 4.97 per cent by 2019-2020.
The Ombudsman ordered Mr Cullen to release the papers by 5pm today. Mr Cullen had said the refusal to publish them was to protect the confidentiality of advice until the policy was finalised.
But Mr Belgrave's ruling said: "Given the urgency requested in the light of the imminent parliamentary elections, I would expect you to make the information available as soon as possible and no later than 5pm today."
National finance spokesman John Key said Mr Belgrave had rightly observed that Dr Cullen had a public duty to release the information.
"This is an unusual step by the Ombudsman but I believe it is clearly in the best interests of New Zealanders to know all the risks relating to Labour's last-minute loans policy," he said in a statement.
- NZPA