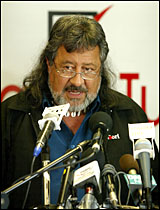 Maori Party co-leader Pita Sharples says New Zealand has gone "benefit-mad" and needs to bring the extended family back into caring for people in need.
He wants grandparents to help care for the children of sole parents, parents to help their adult children through mental health problems, and adult children to care for their parents in old age.
"We believe we have gone benefit-mad," he said. "We have to put the responsibility back to families."
Dr Sharples, who has run community services for many years at Hoani Waititi Marae in West Auckland, said New Zealand was shutting its eyes to the welfare problem, just as it was to the impending world oil shortage.
In June, 26 per cent of all Maori people aged 18 to 64 were on benefits, compared with just under 9 per cent of non-Maori. About half of these (12.7 per cent of Maori, against 3 per cent of non-Maori) were on the domestic purposes benefit.
Dr Sharples said benefits kept people alive, but did not give them any quality of life.
"Part of the answer is about strengthening families so that we keep people under our wing and not just cast them off to survive on their own," he said.
"If you have an adult daughter who is schizophrenic and under medication, because she is schizophrenic there are certain things she can't be trusted to do, but that doesn't mean she can't have a life. I don't see that that person has to have a whole lot of benefits and go and live by themselves."
He said older people wanted to feel needed and respected by their families in old age.
"In my home my mother was a nuisance when she got old. We were frightened she was going to burn the house down, she teased my kids, but she still ruled the roost," he said.
"My Pakeha colleague said my mum wouldn't want to live with us. I said that is the problem, that's got to change. There is an expectation that you have to move out when you get to a certain age. That can change - if one of the parties wants it badly enough, it can happen.
"If New Zealand could just extend the family beyond mum, dad and the kids, that would be a great achievement. With a lot of solo mothers, their children's nannas would love to share the time and cost of those babies, but they are missing out because the girl is in some scungy flat in town eating crap food."
He acknowledged that many extended families were now scattered around the world, but he knew Maori families where people still paid $30 a week into the account of a sibling in another town.
He said state benefits would always be needed too, but they should be reviewed.
National Party welfare spokeswoman Judith Collins said she was heartened by Dr Sharples' comments and looked forward to talking to Maori Party MPs about welfare reforms if National won the election.
Labour's Social Development Minister Steve Maharey said he also shared Dr Sharples' aspirations for the family but he could not see any specific proposals in the comments that would change what Labour was already doing.
By Simon Collins

Email

Simon