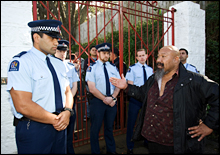 Tongans burned their national flag and smashed a lock to the gates of the King's residence in Auckland yesterday in support of a widespread public service strike in their homeland.
A crowd of about 50 Tongans who live in Auckland had intended to storm the Epsom grounds, but were kept at bay by police.
Three vanloads of officers were called to the St Andrews Road property, but the protesters decided not to try to force their way in.
Protest leader Alan Taione wanted to meet King Taufa'ahau Tupou IV, who is in Auckland, to listen to their complaints about the Tongan Government refusing to give civil servants significant pay rises.
"We were just wanting to talk to him in a friendly manner," said Mr Taione.
"We do not want to remove him, but it will come to that if he doesn't listen."
He said people wanted a new and fully democratic election.
The protesters waved a banner saying "Tupou IV your time is over" and "King Tupou IV, if you and your family still want to be the King you must listen".
The melted fragments from the burned red flag looked like congealed blood outside the gates to the pohutukawa-lined driveway which leads into the large grounds.
Two Tongan men inside the grounds recorded the protest on video cameras from behind the tall wrought-iron gate.
A protester who did not want to be named told the Weekend Herald she wanted to show support to her relatives back in Tonga.
The Auckland chief of security for King Tupou IV, Soaki Motuapuaka, said he was trying to resolve the situation on the behalf of police.
Mr Motuapuaka said he did not have authority to speak for the King, but suggested Mr Taione return on Monday to discuss his concerns.
In Tonga yesterday Green MP Keith Locke said the month-long strike was relatively peaceful and optimistic.
Mr Locke went to Nuku'alofa to offer support to the strikers and the democracy movement.
He did not detect any indications that the strike would turn violent, although some Government cars had been torched, and students at Tonga College had trashed their new principal's office after the former principal was sacked for supporting the industrial action.
THE DISPUTE
What are the Tongan civil servants striking over?
They are seeking pay rises of up to 80 per cent. Some earn as little as $47 a week. Pay rise offers of up to 30 per cent have been rejected.
How many are on strike?
The New Zealand High Commission understands about 1000 workers have gone out.
How is the strike affecting the running of the country?
State schools are officially open but few students are turning up. The hospital is running on minimum staff, with doctors agreeing to emergency cover only. Imported goods are reportedly piling up in customs.
How are the strikers getting by?
Businesses are supporting the strike by donating cash and locals are providing produce such as peanuts and watermelons. The Westpac Bank has extended repayment dates for loans.
By Angela Gregory

Email

Angela