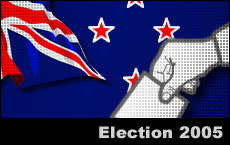 The cost of Labour's key election promise on student loans is being questioned by a second bank's chief economist, despite Education Minister Trevor Mallard labelling Westpac's analysis "self-motivated garbage".
National Bank chief economist Dr John McDermott yesterday joined his equivalent at Westpac, Brendan O'Donovan, by venturing into the political arena, despite "risking getting a political pasting".
Dr McDermott said yesterday that he agreed with the thrust of Westpac's analysis. He labelled the "storm" over it disappointing and said it was likely to discourage proper debate.
He did not release costings but said the National Bank found it difficult to believe students would not take advantage of being able to borrow money without cost and then invest it at up to 6 per cent interest.
"They are supposed to be our best and brightest after all."
Dr McDermott said voters should beware of "magic potions that deliver economic nirvana - most are just snake oil".
"Good policy making is more than just handing out lollies through tax cuts and spending."
He said the National Bank would be independently appraising political parties' policies in the runup to the election and he hoped that would not become the subject of "political derision".
He said the hands were tied of public sector economists, including those at the Treasury, and other economists had an obligation to debate the implications of the policy.
Dr McDermott's decision to remark on the costs of Labour offering to wipe interest on student loans comes hard on the heels of Mr Mallard's extraordinary attack on Mr O'Donovan and Westpac.
Mr Mallard, an Associate Finance Minister who has ambitions to succeed Finance Minister Michael Cullen, suggested Westpac was warning about the costs of the policy because it risked losing money from students.
Mr O'Donovan said last week that the cost of the policy could blow out well beyond the $300 million Labour estimated because there was now an incentive for students to borrow more money because there would be no interest costs.
He said if all students borrowed to their maximum capacity the annual cost could top $1 billion, although he said that was an extreme example and not likely to happen.
"But it's always useful for any policy to have a look at what your maximum risk is, and it's a whole lot more than $300 million.
"People are not stupid. Offer them free money, and they will take it."
Mr Mallard argues Mr O'Donovan's calculations are wrong, and Labour is sticking by its stance that the cost of the policy will not escalate above $300 million because there will not be a surge in borrowing.
Mr Mallard told Parliament a number of commentators had got the costings "wrong".
He would be happy to brief both National's education spokesman Bill English and economists.
Prime Minister Helen Clark said she believed the policy was affordable "and that the costings were based on reasonable assumptions over the forecast period".
Helen Clark and Dr Cullen confirmed the Treasury would not be costing the policy because it was Labour Party and not Government policy.
By Helen Tunnah