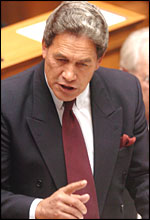 A power-sharing scenario in which New Zealand First leader Winston Peters becomes Prime Minister in a coalition Government with National is being discussed informally among some MPs of both parties.
Such an outcome would be possible if NZ First held the balance of power after the next election. Recent polling suggests that possibility cannot be discounted.
Until now, the assumption had been that Mr Peters and his small party (13 MPs at present), could again be kingmakers after this year's election, as they were in 1996, deciding whether the larger Labour or National led a coalition Government.
But there is another scenario in which Mr Peters could be Prime Minister for half, if not all, of a three-year term of a National-New Zealand First coalition, even if he wins fewer MPs than National.
The talents of National leader Don Brash, the former Reserve Bank Governor, would be turned to the finance portfolio.
The scenario has not and will not be raised at a leadership level before the election.
But several National MPs yesterday confirmed there had been subterranean talk of a shared leadership, promoted by some NZ First MPs.
Dr Brash last night described it as "wild talk".
Mr Peters said he was not promoting the idea and any of his MPs with a mind to their list ranking would not be discussing it.
The prospect of him being king as well as kingmaker fills many National MPs - though not all - with dread, but so does the prospect of another three years in Opposition.
However, several said that if the prime ministership was Mr Peters' price for coalition with National, it would be better to sit out another three years in Opposition and prepare the party for a longer stint in government than risk an unstable three years under Mr Peters.
The idea has been widely enough discussed for the weekly National Business Review to endorse it on Friday in an editorial saying: "Peters as Prime Minister with Brash and [John] Key on the finance front could be the potent mix the country needs."
It was also given some credence in discussions on TVNZ's Agenda programme at the weekend.
Dr Brash refused to be interviewed last night but said through a spokesman: "Our initial aim is to be the largest party in Parliament after the election. Only National can change this Government. I do not intend to speculate on coalitions. This is wild talk."
Mr Peters dismissed the idea, but more as irrelevant than impossible.
"I don't want to be part of this story, frankly, because it is not part of what NZ First is doing now, in our thinking or in this campaign.
"I am not putting what you say down, but it is just simply not in our strategy in 2005."
Asked if he would be concerned if any of his own MPs had been promoting it, he said: "There would be no smart New Zealand First MP with a mind to where they are on the list making those sorts of statements. They don't come from me."
Dr Brash's popularity as preferred Prime Minister has been slipping and Mr Peters' rising.
Dr Brash fell five points in last night's Colmar Brunton-One News poll to 15 per cent, and Mr Peters rose three to 13 per cent after weeks of publicity over his revelations of Iraqis linked to Saddam Hussein's regime living in New Zealand.
Mr Peters rejected a suggestion that his brother Wayne Peters had put a last-minute deal to National during the 1996 negotiations to secure a power-sharing deal between Mr Peters and the National Prime Minister at the time, Jim Bolger.
The National-New Zealand First coalition was the first MMP Government. Mr Peters was Treasurer and Deputy Prime Minister.
Mr Bolger was ousted as Prime Minister in a coup by Jenny Shipley after less than a year, and the coalition lasted another 10 months until NZ First left and it splintered.
* Last night's poll showed:
Labour down 1 to 44 per cent
National down 1 to 37
New Zealand First up 1 to 8
Greens steady on 4 per cent
Act down 1 to 2
Maori Party up 1 to 2
United Future steady on 1
Progressives on 0.3
Peters' progress
* Latest polls show NZ First within striking distance of holding the balance of power.
* Based on last night's Colmar Brunton-One News poll, NZ First would have 10 seats and the Greens none, forcing Labour to work with either NZ First or the Maori Party.
* On this poll, a three-point shift down for Labour and up for National would give NZ First the balance of power. It could form a two-way coalition with National or be part of a four-way coalition with Labour.
* Last week's Herald on Sunday DigiPoll survey had Labour in a stronger position, with enough support to form a coalition with the Greens.
By Audrey Young

Email

Audrey