Swimmer Lauren Boyle became the first NZ woman to earn medals in the 40-year history of the world swimming championships when she took bronze in the 400m, 800m and 1500m freestyle events in Barcelona. Yet what do we know of her beyond the cap, togs and goggles?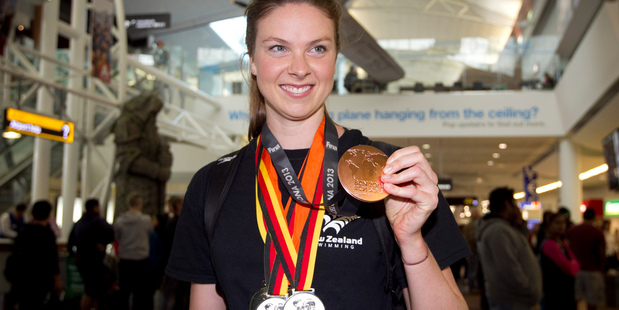 When Lauren Boyle said goodbye to Toby, she knew she owed it to him to make her swimming gig work.
Growing up in Whenuapai, west of Auckland, she spent much of her childhood in the pool or the paddock. Swimming lessons led to membership at her local club when she was about eight. At 10, she took her first horse, Digger, to the local pony club. Eventually she outgrew Digger and graduated to Toby.
"I was almost obsessed," Boyle says. "I had shelves of books about riding and keeping horses and I dreamed of having my own. But during that period I also realised I might be good at swimming, because Iwon the school swim sports every year without much effort.
"After a while I knew I had to choose between the two sports, because the time demands were too great. Swimming seemed the natural choice, because I was progressing quicker. I also liked the simplicity. You only needed togs and goggles - and maybe a cap. You didn't need any expensive equipment which can automatically exclude competitors who might not be as well-off."
So the togs trumped Toby.
The second was her decision to attend the University of California, Berkeley. Talk to people who have worked closely with Boyle and without fail they say that American experience built an independent streak that enabled her to remain focused despite the divisive environment of recent years in SNZ. From 2007 to 2010, she swam with the squad (known as the Cal Bears) under American national women's coach Teri McKeever. Last week, on the university's sporting website, Boyle says she didn't think she'd still be swimming if it wasn't for her "Cal" experience.
The relationship she developed with McKeever was one of mutual respect.
"It was great catching up with Teri," Boyle says after they met in California during the lead-up to the Olympics. "She helps me figure out how to improve without giving the answers. It is a powerful way of learning."
Boyle acknowledges it was an important step to move overseas as an 18-year-old.
"I developed an independence and a sense of confidence that I didn't have," she says. "Berkeley is a diverse city; it opened my mind to new ways of thinking. It is a place where anything goes. No one is ashamed to be different. In fact, being your own person and living the way you want is praised and encouraged.
"Since living there I care very little about how other people may judge me and have found that I am much less judgmental of others."
One former team-mate says Boyle's input was crucial in negotiating the swimmers' position during crises with the establishment.
"Lauren always seemed 100 per cent committed and passionate. She understood the value of a team approach from her American university days. It always mattered to her what the group thought in those dire timeswhenwewere trying to defend ourselves."
The team-mate notes that Boyle comes across as quite serious in the media. "She's definitely matured in recent years. Maybe that maturity made her swim faster and with new-found belief."
She's never been afraid to say what she needs, she holds people to account and she's never taken anything for granted.
"Physically she was born to be a swimmer, too, with those long limbs."
In addition to her swimming prowess - she co-captained the college team in her senior year - Boyle finished with a degree fromtheHaas School ofBusiness. She drew inspiration from one mentor in particular.
"His name was Professor Etter," Boyle says. "He taught us for free as a way of giving back to the community. He made corporate finance and financial statement analysis, which sounds tedious, into one of the most exciting and rewarding classes."
A commitment to social responsibility and sustainability, and a desire for fairness, are threads running through Boyle's life. Out of thewater, for example, she enjoys getting her hands dirty.
"I am interested in food and how it can affect our bodies so I have a vegetable garden. I find gardening very grounding, if you'll excuse the pun. Being out in nature makes silly, stressful things in life seem less important. For swimmers it's important to go outside during the day because we spend so much time training indoors."
She's also a devoted reader.
"My latest book is really exciting me. It's called A New Earth by Eckhart Tolle. It's a bit of a tough read at first but it is making me think about the world differently."
The book has been described in reviews as helping readers "create happiness for themselves without emphasising material possessions". Sounds very Boyle.

A final pillar of Boyle's success has been her response to finishing fourth in the 800m freestyle at the Olympics.
For anyone who's seen her postrace interview, it is one of New Zealand sport's more emotional television moments. Lump-in-the-throat time. A YouTube video posted in February offers a summary of her feelings at that moment.
She says:"Every time I blew out the candles on a birthday cake (growing up) I dreamed of an Olympic medal. I wish I had had more faith.
"It's kind of hard to come fourth. It's kind of a crappy position. It can really eat away at you if you're not careful."
Somehow, even with the exit of her coach Mark Regan in January, Boyle built the necessary faith in herself over the past month. They are not Olympic medals, but the three bronze gongs at Barcelona were a revelation and a marker the sport can work from.
"I have had many moments when I thought of finishing swimming," Boyle says. "I really didn't know if I could continue without Regan.
"I managed to be successful by acknowledging my feelings during that time and asking helpful people to step in and do something.
"When I feel like giving up I try to remind myself that I actually like the physical act of swimming."
One source says Boyle simply trains her heart out while leading a "spartan" lifestyle. They suggest her weekly grind uses every ounce of energy she has just to get through the workload.
"She does seven days a week. On Sundays, when they are supposed to be having a free day, she may fit in an ocean swim or a few laps at some pool other than the Millennium Institute."
For Boyle it comes down to love. "I realised a while ago that people should spend their lives doing what they would do if they won the lottery. I would do what I am doing right now. Swimming as fast as I can until I don't love it any more."