An Auckland constable stabbed in the face this morning has been praised for his commitment to his work.
Todd Martin, who is responsible for the Mission Bay and St Heliers community constable offices, was having surgery at Auckland City Hospital this afternoon after being attacked with a long-bladed knife while responding to reports of a man being threatening and abusive.
Mission Bay police station volunteer Sam Gibson said Mr Martin is a "very good" officer who has worked in the area for several years.
"He really understands the job and has a good rapport with the local community."
Mr Gibson was shocked when another volunteer phoned him this morning with the news.
"It's something you don't expect to happen, but it's always a possibility."
Mr Martin is stationed at Newmarket and has been in the police for nine years.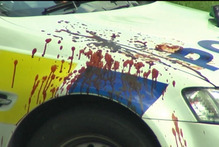 He was stabbed while talking to a man on Hapimana Rd, which leads from Tamaki Drive to the MJ Savage Memorial Park overlooking the Hauraki Gulf about 10.20am.
He was with two other officers. All were wearing stab-proof vests.
Acting Auckland commander, Inspector Jim Wilson said Mr Martin was "taken completely by surprise".
"Without any warning whatsoever the suspect then drew a knife and stabbed him in the face," Mr Wilson said.
"At that stage there was no indication he would become violent, he certainly wasn't aggressive at that stage and it would appear that he took the officer completely by surprise."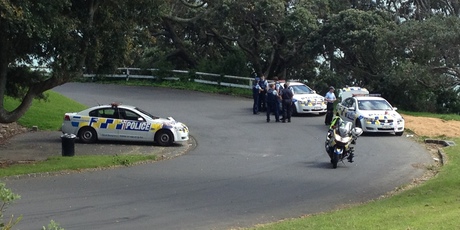 Mr Wilson said the suspect then turned his attention to the other officers, one of whom was armed with a Taser.
"They backed off, and it was at that stage then he turned and ran off across the park into some bushes."
Another officer at a cordon on Patteson Rd saw the suspect riding a bicycle 25 minutes later.
"He thought that [he] was likely to escape so he called upon the [man] to surrender. [He] was clearly intent on leaving the area so the officer pushed him off his bicycle before Tasering him."
Mr Wilson said there was a real fear that someone else could be harmed.
"This is about as serious as it can possibly get, when an officer is actually stabbed," he said.
As well as the knife, the alleged offender was carrying tools in a bag which could have been used as a weapon, including a hammer, police said.
Mr Wilson said the incident did not indicate a need for police to carry firearms on routine duties.
"There was no time to deploy the Taser so there wouldn't have been any time to deploy the firearm at that stage."
However, Police Association president Greg O'Connor said the stabbing highlighted the risks faced by every police officer, even while carrying out routine tasks, and they should be armed.
"That means a Taser, and unfortunately we've reached a stage when it also means a firearm."
A 38-year-old man will appear in Auckland District Court tomorrow facing three charges of assault with a weapon and one of wounding with intent to cause grievous bodily harm.