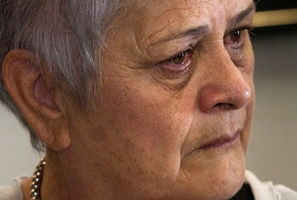 The widow of the man slain while working at a stop-go sign was forced to prove she hadn't killed him before life insurance was paid.
Dr Helen Taiaroa said the heart-breaking request was one of a series of clumsy and painful incidents which served only to deepen the anguish.
George Taiaroa was killed in March while working as part of a road construction crew. Aged 67, he continued working beyond retirement for the social contact while using his wages to fund fishing and overseas trips.
"I had to prove I wasn't culpable," she said. "I had to prove I hadn't murdered George before they would pay out on his life insurance."
Dr Taiaroa also found herself paying higher tax as a result of ACC cover, which saw 60 per cent of Mr Taiaroa's wages continued. She has yet to find out why, but it led to her higher academic wage being taxed at a higher rate.
Dr Taiaroa said the bureaucratic stumbles had heaped insensitivity on a family already hurting from the violent loss of Mr Taiaroa. She also criticised the way police informed her of his death and was critical of media coverage, which she believed began from the position of a stereotype formed about Maori blue-collar workers.
Interactions with the family also paid scant regard to their immersion in tikanga Maori - a foundation on which Dr and Mr Taiaroa built almost 43 years of marriage.
"It leaves a lot to be desired - I don't want it to happen to anybody else whereby they think that is appropriate."
---
Read the full interview here: My husband deserved respect - George Taiaroa's widow
---
She said she believed it was possible to create a central body which handled matters on behalf of those who had lost loved ones to tragedy. It would allow one place to co-ordinate the needs after an incident to shield grieving relatives from bureaucratic and institutional issues.
In many cases following Mr Taiaroa's death, Dr Taiaroa believed his ethnicity played a role in the response of organisations. She praised the involvement of iwi liaison officer Sergeant Brian Nicholas.
Detective Inspector Tim Anderson, who is leading the murder inquiry, confirmed he had to intercede on Dr Taiaroa's behalf with Asteron Life Insurance. Police had apologised about how the news was broken to Dr Taiaroa, he said.
"The last thing we want to do is to upset victims of crime - particularly homicide victims."
Asteron Life's claims and underwriting manager Nadine Tereora said standard practice required that "the recipient isn't connected to the crime that has occurred".
She said there had been "high-profile crime cases" in recent years where insurance companies had made payments to people involved in the crimes. "The insurance companies in these cases weren't able to reverse the payment, so the person responsible for the crime received financial reward."
Financial Services Council of New Zealand chief executive Peter Nielson said incorrect payments could be overturned by civil action but it was difficult to get the cash back.

• Read Helen Taiaroa's full interview here.