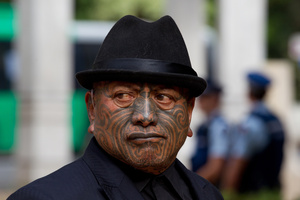 Urewera Four member Tame Iti says he has thrown his cellphone away because of his suspicions of police surveillance.
Iti was found guilty of several firearms charges in March with Emily Bailey, Urs Signer and Te Rangikaiwhiria Kemara over the Urewera raids of 2007.
A decision due today is expected to reveal he will not be retried on a charge of belonging to an organised criminal group with objectives including murder, arson and using guns against police.
Iti yesterday claimed the Search and Surveillance Act, passed this year, makes him an easier target for police.
"I've thrown my phone away to stop them keeping a tab of me using the phone as a GPS. It's always a possibility they will always be monitoring my location ... they can do it under that new law.
"Once it used to be unlawful and now unlawful becomes lawful - that's scary stuff."
Auckland University associate law professor Scott Optican said the new law does not make it easier to snoop.
"That's definitely a sort of exaggerated and unnecessary response [to throw out a cellphone] because the whole point of the act is to set up a general controlled regime for both audio and visual electronic surveillance by the police of the activities of citizens," he said.
Iti will be sentenced on the firearms charges on May 24.
It is understood none of the Urewera Four will be retried on a charge of belonging to an organised criminal group.
Crown prosecutor Ross Burns said there were "a lot of rumours out there" about whether the retrial would go ahead but he could not comment before the callover at the High Court at Auckland today.
Tuhoe elder Tamati Kruger told Radio New Zealand a decision not to seek a retrial "brings to a conclusion a disaster that will be recorded in New Zealand history as one of the worst things that has happened between the state and its own citizens".
He said that while many in Tuhoe were "outraged" and wished to pursue a civil suit, he felt it best the iwi leave those decisions till next year, and focus on Treaty negotiations with the Crown in the time being.
Mr Kruger called for dialogue with the Crown to repair relations after four and a half year ordeal.