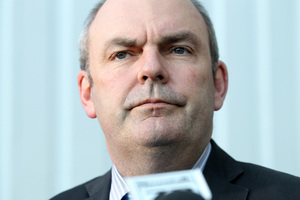 Senior Government ministers Bill English and Steven Joyce say National Party members will be asked for policy ideas at the party conference in Nelson this weekend to take into next year's election.
But one of the strongest policy messages they are likely to hear from members is opposition to lower the recreational snapper limits in snapper area 1 - the northeast side of the North Island.
Conference delegates arriving at Nelson airport last night were greeted by a small group of people protesting against asset sales but a larger demonstration is planned outside the conference today.
English is speaking to the conference this morning and said he would be calling for fresh policy ideas to take into the next election and to warn against complacency.
"Government who get a bit used to being [in] Government have got to watch any sense of complacency," he told the Weekend Herald. "We need to make sure that the party activists hit the next election as keen for momentum and change as they were in 2008.
"When you are talking to a party group like that, there is a temptation when they have got good public support and a leader in pretty good shape that they think that they can run on the status quo.
"But my view is the best thing to improve our prospects of being re-elected is to get on with the job with the same energy that we've had in the past of focusing on those things that the public see as mattering to them - jobs and incomes and better public services."
The Government's current focus was getting longer term policy bedded in - welfare reforms, changes in social housing, the business growth agenda, and getting the earthquake rebuild really locked in.
But he would be asking members to "get their thinking caps on" to come up with policy for post-2014.
"We need to make sure there's a very good positive reason for people to elect us."
Joyce, who has been the party's campaign manager for the past two elections, will speak today as well.
He is expecting this conference to be an active one in terms of policy ideas. "Gone are the days when members are just happy to turn up to a conference and listen to people - 20 or 30 years ago the social side was a big part of it and it probably is still, but people do want to have their input."
But the whole of society had got much more opportunity now for people to have their say.
" Ministers are looking forward to the chance have a bit of a conversation with people they know and whose opinions they respect."
Several National MPs - including Scott Simpson and Mark Mitchell - oppose moves to lower the snapper catch in snapper 1 which at present stands at nine.
Primary Industries Minister Nathan Guy has to make a decision by October 1 on measures to protect the depleted fishery. He said yesterday an option that reduced the bag limit from 9 snapper to was "at the extreme end of the scale and my view is that is unlikely to proceed".
"I'm prepared to have the discussion on the weekend with anyone prepared to talk to me about it."