Hayden Donnell and his alt-country outfit Great North are to about to release their third album, Up in Smoke, the follow-up to the Tui Award-winning Halves. We asked the band frontman, who splits his time between music and being a Herald online journalist, to tell us the story of the new album.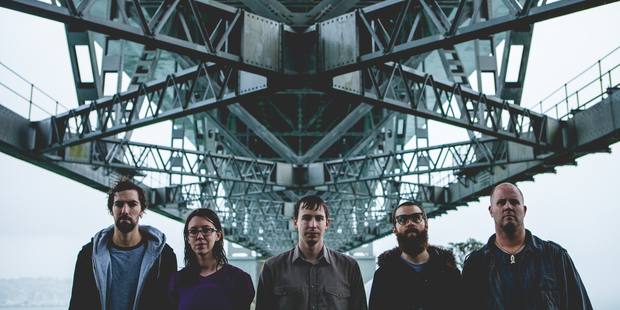 When I was 17 I got caught drink-driving. I saw the lights flashing behind me, turned to my friend in the passenger seat and asked: "What does this mean?"
"He said, 'It's all over'. He was right.
I remember the pitying expressions of the police officers on duty. The embarrassing early-morning phone call to an irritated, barely awake solicitor. The disappointed looks on my parents' faces when the officers, against my wishes, took me home. In the matter of a few hours, all my years of stupidity came into sharp focus.
I spent the next few months in misery and regret. My dad, a property lawyer, represented me in court. People in the public gallery laughed when I stood up, baby-faced and shaky, to face the judge.
Dad entered a guilty plea on my behalf. I was fined $950, suspended from driving for three months and warned what would happen to me if they caught me again.
My parents told me to go to a religious camp that Easter. On the Sunday, the speaker called for people to come to the front and get prayer. Guilt guided my feet. Someone started praying for me. Nothing happened.
After a few awkward minutes, I wandered outside and talked to a friend on a tennis court. I told her, "I don't know how I'm going to change."
Listen to Up In Smoke, the new album from Great North here.
It's still hard for me to explain what happened next. A sudden, cathartic sorrow set in, followed by inexplicable joy. I spent an hour or two in tears. That night I transformed from idiot teen to conservative Christian.
For a couple of years I felt like God shone in the stars, spoke in the words of books, rattled in my head as I went about my daily life.
Up In Smoke is the album I wrote when the lights went out, the voices went quiet and the stars became great big balls of gas in the sky.
It's not easy for someone who has never had a faith to understand, but for someone who has, the feeling of losing it can seem like a betrayal. My songs started sounding bitter. Up In Smoke, the album's title track, reads like a kiss-off letter from a scorned lover. Somebody Else's Lord is more weary, asking to go back to a place - a feeling - that may not exist anymore.
Writing was exhausting work. In my desperation for hope I turned to the only God I was still sure of: Bruce Springsteen. Even when things got dark Springsteen songs always seemed to reach towards some unspoken, perhaps even as-yet unrealised truth.
When he released Wrecking Ball I bought tickets to see his shows in Canada. A few months later he toured Australia. I bought tickets again. On my sixth Springsteen show I was standing to the right of the stage. Bruce came down to the podium beside me, looked me in the eyes and shook my hand. I don't know what I was expecting. A divine spark? A transference of raw hope? Instead, I just felt a damp and oddly cold hand.
I flew home and finished writing the album. We recorded it in the same place we always do - our producer Dave Parker's bedroom in Oratia. Band members travelled in on weekends and days off. I helped Dave move a rickety piano in and out of the studio at least a dozen times.
A five-member "choir" came in for a day. Dave hunched over his computer through endless vocal takes and innumerable hours of mixing and mastering, making sure it was at least our best-produced album.
After a few months it was finished. We celebrated by ordering pizza.
It was like therapy. Hope returned in different forms. Late album addition Spirits is defiant, promising to live well, even if it won't mean a lot. The last song to be written was the album closer, The Sound of the Sea. It tells the story of two lovers saying a last goodbye. The song ends with a repeated, hopeful promise: I will be back before you know it.
I still don't know whether that's true. But writing Up in Smoke taught me to find wonder whirring under the mundane. That could be the combustion of a star in a distant galaxy. Or maybe just a kind word from a friend, the loyalty of a partner, the clammy, outstretched hand of a rock god.
Listen to Up In Smoke:
Who: Great North
What: New album Up in Smoke
When: Out May 9
Live: Victoria Theatre, Auckland May 9; Chick's Hotel, Dunedin, May 16; Chambers Sessions, Christchurch, May 17; Meow, Wellington, May 22; The Photographer's Gallery, Napier, May 23; Walton St Cafe, Te Awamutu, May 24; Major Tom's, Mt Maunganui, May 30; Leigh Sawmill Cafe, June 7
- TimeOut