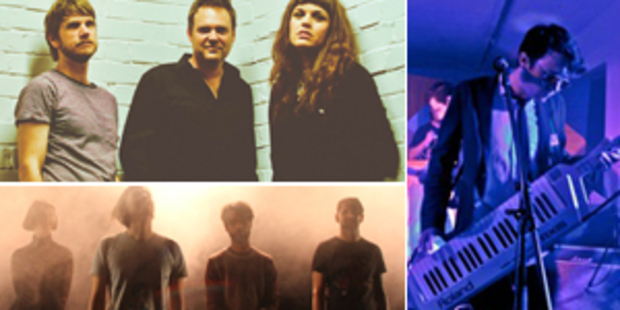 It's the first day of New Zealand Music Month, and nzherald.co.nz is proud to be able to bring you one of the first events out of the gate.
NZ Music Month will be officially opened with Lawrence Arabia performing live at Britomart's Takutai Square from 12:30pm. Then in the evening we are live streaming the synth/guitar band showcase from Tyler Street Garage, featuring She's So Rad, Paquin and Delete Delete.
This is the first of seven "Beck's Sets" showcases happening during NZ Music Month.
Between bands we'll be playing songs from Lawrence Arabia's daytime set, as well as live interviews with all the bands performing.
The first band is on at 8:30pm, but we'll be streaming from 8pm - the same time doors open if you want to come down and watch live.
Beck's Sets Schedule
Thursday May 1
Lawrence Arabia (free), Takutai Square, Britomart Auckland, 12:15pm
She's So Rad, Delete Delete, Paquin (free), Tyler St Garage, Britomart Auckland, 8pm
Friday May 2
Doprah, Matterhorn, Wellington, 11pm
Thursday May 15
Janine & The Mixtape & guests, DuxLive, Christchurch, 8pm
Saturday May 17
Native Tongue showcase featuring The Phoenix Foundation, The Bads, Mulholland, Kings Arms, Auckland, 8pm
Saturday May 24
David Kilgour & The Heavy 8s, Death & The Maiden, Brown, Chicks Hotel, Dunedin, 8pm
Friday May 30
Arch Hill Records 15th Birthday, featuring Don McGlashan, Ghost Wave, Street Chant, The Transitors, Surf City, Doprah & special guests, Kings Arms, Auckland, 8pm
LIVE STREAM F.A.Q.
*This stream will not be geo-blocked so can be watched from any country.
*This stream will also work on mobile devices, including iOS and recent versions of Android.
*Our video player will auto-detect your bandwidth to give you the stream best suited to your connection.
*For best results, plug in some speakers and watch full screen, or send to your Apple TV if you have one.
*Monitor @hugh_sundae on Twitter for any timing changes or known issues.
-nzherald.co.nz