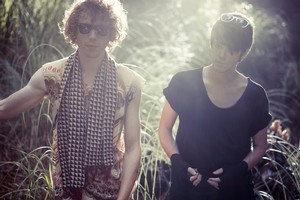 To help celebrate NZ Music Month, TimeOut and nzherald.co.nz, in conjunction with Frequency Media Group, are giving away a free download EP every Thursday in May.
Computers Want Me Dead features in the third of the Outlook for Thursday series, one of five hand-picked tracks designed as a primer for recent releases from local dance and electronic acts.
Here's Volume 3's tracklisting:
Computers Want Me Dead
Letters & Numbers
The latest synth-powered single and opening track from the Auckland electro dance pop duo's debut EP will have you singing along and swooning around the dance floor (or the lounge) in a state of 80s pop bliss.
Tiki & Sambora
Come Fly With Me
One of the soaring, catchy drum 'n' bass-style tunes off Tiki Taane's second album In the World of Light from earlier this year that offset the album's darker haka and dubstep-inspired moments.
State of Mind
Vega
Off the drum 'n' bass act's third album, Nil By Ear, this track features Shapeshifter's P Digsss on vocals and starts off tranquil enough before escalating into their trademark spiralling dance floor grooves.
Concord Dawn (feat. Nina McSweeney)
Easy Life
Taken from the drum 'n' bass stalwarts' fifth album, The Enemy Within (the first with Matt Harvey flying solo after Evan Short's departure), Easy Life features the saucy vocals of Nina McSweeney and a typically hypnotic Concord Dawn beat.
Cern
Double Down
On a darker and slightly harder-edged drum 'n' bass tip comes a tough and trance-inducing tune from Cern (aka Ollie Cern).
To grab the songs and accompanying artwork, simply go here.
See TimeOut next week for details on the final EP giveaway, which will include selections from the rock and alternative genres.
- TimeOut