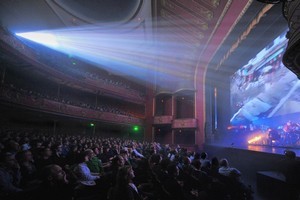 Following his sold out and critically acclaimed performance in 2010; Rhian Sheehan presents Standing In Silence in its full multifaceted glory for the very first time in Auckland.
A stunning audio and visual performance, Standing In Silence sees 15 contemporary, classical and electronic New Zealand musicians perform live alongside a backdrop of moving images. Gareth Moon shot the images specifically for the Standing In Silence show to create a sense of surreal beauty, isolation and innocence.
The performance features a selection of talented musicians including Sheehan's key collaborator, Jeff Boyle (Jakob), Steve Bremner (NZSO, Strike), Raashi Malik (Rhombus), Andy Hummel (The Woolshed Sessions), Pete Hill (The Woolshed Sessions), Jane Pierard, The SIS String Quintet and special guests.
Inspired by a photo he took in India of a lone man standing on a hill amongst pollution, Rhian Sheehan based Standing In Silence around the question: "Is it possible to be surrounded by a mass of humanity, a bustling sea of lives, and still stand in silence?"
Sheehan's proposition extends visually into original photographic and moving images, which are interwoven throughout the performance, portraying the lives and environments of individual people living in megacities throughout Asia.

Sheehan says "the show is all about reflection and contemplation. I would describe Standing In Silence as drifting through some future megatropolis city through the eyes and innocence of a child."
Sheehan has combined original instrumental compositions, which incorporate sonic experiments with the sounds of found objects not usually heard in music such as wine glasses, bowed and plucked piano strings, tailor made music boxes, tongue drums, body percussion, the sound of bustling crowds and children at play.

Standing In Silence, Rhian Sheehan's fourth album was released in 2009 as a growing project, to challenge the form of electronic music by taking a more filmic and ethereally esoteric approach with an emphasis on communicating current global and cultural issues through music and imagery.
THE LOWDOWN
What: Standing In Silence Rhian Sheehan and Guests
When: Saturday 28 May
Where: The Mercury Theatre, Auckland