A love of Disney tunes has spawned a solo venture for Princess Chelsea of the Brunettes, writes Jacqueline Smith.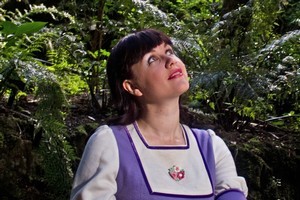 Princess Chelsea's debut album has hints of bedtime fairytales and rousing 1940s Disney soundtracks. But actually, she got her stage name while on tour with her punk band a few years ago.
Known for playing the glockenspiel - and everything else - in Kiwi quirky pop band The Brunettes, and among her friends for posting pictures of her cat Winston on Facebook, Chelsea Nikkel told her parents she wanted to be a musician when she was just a tot.
And so she went down the classical route, learning to play the piano and studied the greats through her teenage years.
"Schubert was my fave," she gushes.
She recalls running home from school to practise the piano for hours on end. Eventually one of her friends caught wind of her talent, asked her to jam, and the rowdy band Teenwolf was born.
"It was loud screaming vocals with distorted guitar and ridiculous untrained tribal drumming and classical piano," she explains.
Complaining about her unwashed clothes and the lack of showers while on tour with Teenwolf earned Nikkel, 25, the nickname Princess Chelsea, which she harboured while touring with The Brunettes for a few years.
The name, and the fact that she is enthralled by old Disney soundtracks like Pinocchio, Snow White and Sleeping Beauty, gave way to her solo album, called Lil' Golden Book. Most of her songs are presented as wee stories, she explains, and the cartoon cover art reflects that, as well as her relationship with Winston.
Cigarette Duet tells of a real conversation between Nikkel and her boyfriend over her casual smoking habit.
"I'm not an avid smoker, in fact I think it's a bad habit, but it's just an interesting take on that in a relationship. I used to smoke and my boyfriend hated it. It's neither for nor against, it's just discussing it," she says.
Yulia, one of the zanier songs on the album (but not the zaniest, that would be Monkey Eats Bananas) was inspired by a television news story about the singer Yulia marrying her manager in 2008. "It was just a very bizarre piece of media that made me want to write a song. Hopefully it doesn't come across as negative towards her because I didn't intend it to be," she says.
Meanwhile Frack is her attempt at a song that sounds like the end of the world.
One of the most passionate pleas on the album is Overseas, written after Nikkel had returned from an extensive tour with The Brunettes which took her from America to Europe to Australia.
"I had been feeling really, really homesick, and I was really glad to be home. And I was thinking about the whole New Zealand OE and how people can't wait to get out of here. They slag it off saying New Zealand is so boring, but I had just spent six months travelling around and came to the understanding that this is all very well, there's a lot of tall buildings, but I just wanted to be here.
"It's essentially about us just doing the same things here as overseas, and that we should not take our country for granted."
She insists she is not opposed to people expanding their horizons, but can not understand why everyone feels the need to uproot.
"I'm not a fan of London, I think everyone is really mean there."
Nikkel has lived in flats all over Auckland and says the city has treated her well as a musician.
She has drawn on the support of many of her music-minded friends over the years, currently plays in The Cosbys and a Paul McCartney covers band, and she calls her live performance Princess Chelsea and Her Best Friends, because one day she looked around the room and realised that's exactly who she was playing with.
Jonathan Bree, best known as the male lead in The Brunettes, helped Nikkel master Lil' Golden Book after she recorded it in her bedroom, and also plays the drums and sings on the album.
Their working relationship has come a long way since Nikkel saw The Brunettes on a late night music show on TV when she was a teenager and fell in love with the sound.
Her own music is not all too far removed from the band's, so there is some fan crossover.
But the Princess Chelsea brand made its own mark on the world when Nikkel did a cover of a White Town song which somehow blew up on the internet.
"For one day I was more popular than Britney Spears," she says.
But Nikkel is more focused on making something very special than getting the most votes online, which is why Lil' Golden Book is so intricately designed, and took three years - recorded in flats from Sandringham to New York - to hone to perfection.
"I really wanted to make it something special to own, because people don't really buy music these days," she says.
LOWDOWN
Who: Princess Chelsea
What: Debut album Lil' Golden Book, out now
Live: Album release show tomorrow night at the Wine Cellar.
-TimeOut