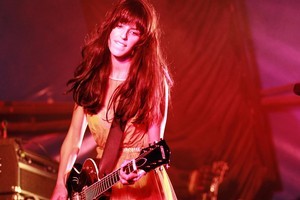 The sun just rose somewhere on the road between Paris and the German border.
Brooke Fraser had only a few hours' sleep but somehow she's perky and polite while bouncing down the highway not long after another appearance on French TV.
Perhaps it's the coffee. The continent known for for its vast variety of caffeine fixes must have the finest pick-me-ups in the world.
Absolutely not, Fraser insists.
"None of them are as good! The coffee in New Zealand is the best in the world."
Even without Kiwi coffee, Fraser has good reason to be in high spirits.
Following the release of her third album, Flags, last October she's a nominee for the 2011 New Zealand Music Awards with Something In The Water a nominee for Single Of The Year.
Come November 3, she'll jostle at Auckland's Vector Arena with fellow nominees Tiki Taane, Ladi6, Avalanche City, Six60 and David Dallas for the attention of judges and fans at the main event.
There's also the small matter of The Naked and Famous, nominated for six awards.
Fraser said she can't wait to catch up with the finalists. Events like the Music Awards give her a rare chance to run into friends and fellow Kiwi musicians.
New Zealand's ex-pat musical community is far too fleet-footed to be squashed into any overseas hotpsots, she says.
"I actually very rarely bump into anyone. I may skip through a venue and one of my fellow Kiwis had been there a week earlier."
She tours and works with a variety of nationalities and said "one dirty Aussie" is the only other Antipodean in her crew.
It's perhaps not surprising her latest album is a worldly affair, built on many influences.
While often referred to as a Christian musician, Fraser's made her antipathy to the "Christian Contemporary" label clear before, once saying she disliked the "merchandising of the Gospel".
For Flags, she even embraced one of the great artistic renegades of the 20th century - Beat Generation novelist Jack Kerouac gets a mention on the third track.
Kerouac's influence on the album was triggered, quite appropriately, by an insight on the highway Fraser had while touring.
"We were driving through this part of the country and I'd just read On The Road."
From there, the author found his way into her melting pot of inspirations.
She's a seasoned traveller now but Fraser says that even with time, life on the road doesn't get easier.
While she says the "novelty" of perpetual travelling might've worn off, it's still a joyful experience.
"It's interesting. I was on the road for 11 months last year and it'll be for about nine months this year but I appreciate what I do. And it's an amazing way to see the world."
Fraser may still have much more to see. She already has loyal fan bases in Europe and the United States, and even in the Philippines she's earned glowing reviews.
She is thrilled - and more than a little surprised - to discover she's a sensation in Manila. However, she's well-acquainted with Asian audiences.
"I was supposed to do a tour of Asia a couple of months ago. But I completely lost my voice for a while."
Apart from those occasional hiccups, Fraser has been able to indulge not only her songwriting interests, but a new passion for producing.
Fraser says one good thing about making Flags was the ability to stamp her vision on this album to a degree not possible before.
"I think this album is a step in the right direction. The album is the most reflective of my influences and of the direction I want to head in as an artist."
"I've been able to assert my full dictatorial authority," she jokes.
That new passion could soon find its voice in a fourth album. Fraser says she hopes to start serious work on new music next year.
"There's more for us to do in Europe. I might relocate here and other than wrapping up the touring, my priority is to write."
"Lyrically, we'll see how that works. I'm not going to give too much away."
For fans who pulled their hair out waiting for Flags, Fraser has some soothing words.
"It won't be another four years between drinks."
- APNZ