After a year of rock'n'roll adventures in the USA, Gin Wigmore returns to stake her claim in this year's New Zealand Music Awards and play a national tour. She talks to Scott Kara.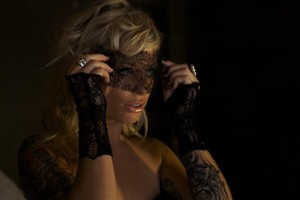 Gin Wigmore has become quite the savvy business woman - and she's not scared to do the hiring and firing, either.
During a long and arduous American tour that started in March, where she was on a mission to get her showy, bouncy, and raw pop rock out to US audiences, she was forced to give her manager and half her band the boot.
Don't worry, she's not gone all Madonna on us. She's an absolute down-to-earth delight on the phone from Sydney, and she can't wait to get back home in October for her Grave Train National Tour and the New Zealand Music Awards, where she's in line for five Tuis, including best album (Holy Smoke), and best single (Oh My).
"I would love to fancy my chances. I just hope if I win my speech doesn't suck after having too many champagnes," she hoots.
So no, she's not turned into a domineering bitch. It's just that the 24-year-old Auckland pop chick, whose debut album has smoked its way to being one of the biggest-selling albums of the year with nearly 60,000 copies sold, knows what's best for her.
"It's been a full-on year, man, with a lot of tears and a lot of changes," she says.
Her plan was to go to the US, starting with the annual music showcase SXSW in Austin, Texas, in March, then stay as long as she could "and tour, tour, tour".
It started well enough but it soon, in her own words, "turned to shit".
"I had bad management. I fired my management. And firing your management is a pretty big deal, because they pretty much run your life. He totally shafted me and it went to shit."
This was right in the middle of her tour and she was reluctant to tell her record company, Motown - the iconic American label she signed with in August, 2008 - because she didn't want to jeopardise the rest of the tour dates, which still had to be confirmed.
"There was another month and a half to go, which was like gold, and I thought I can't lose this and if they see I've lost my management they'll think that I can't organise it and get it on the road. So I sorted it all out myself, and I was making up stories about how he [the manager] wasn't available and things, and I agreed to the rest of the tour."
She remembers the tour reaching an all-time low at a gas station in Atlantic City. She had no money to pay the bus driver, and was having to resort to putting the expenses on her credit card. "I was on the phone to Mum, going, 'I can't do this any more. It's so hard'. I was so f***** broken."
But they charged on as a trio, with her drummer and keyboard player, and she played guitar for the whole show which was something she'd never done before.
She ended up telling Motown about being managerless, and they stepped in, putting a bloke by the name of Henry Harlem in charge of the rest of the tour. With a name like that, no wonder Wigmore and her band was back up and running. Well, almost.
"He pulled me out of the ground and sorted me out," she says, before going on to tell the story about dismissing half her band.
This band is not to be mistaken for the Cardinals, the former backing band of alt-country maverick Ryan Adams who recorded with Wigmore on Holy Smoke. While the Cardinals started out playing the tour, it soon got to the point where, she says with a chuckle, "I couldn't afford them anymore", and she got her Australian band over for the majority of the shows.
"As soon as I got on the bus with them, and after travelling with them for a week, they were just tearing me," she says. They were, to borrow a line from her break-through hit, getting under her skin - and the bass player kept making mistakes.
"I can't stand mistakes. I'm a bit of a bitch like that. But you can't do that in any other job, especially in front of 2000 people." Despite the troubles she reckons she's made good in-roads into the competitive US market. "There have been a lot of enthused Americans out there. They're a keen bunch. And there were even some hardcore Gin fans," she laughs.
And the relentless touring, and seeing many other musicians play shows, has allowed her to hone her own performance which she's incorporating into The Grave Train tour.
"I've seen a lot of shows and played a lot of gigs, met a lot of performers, and I've gotten ideas from them about what makes a great show, and what the audience respond to. So I've really gathered my little tool kit together and this bunch of shows will be about what I've been thinking about for the last year. There's a real show element this time."
And she's also intertwined "all the weird things I've fallen in love with over the last year".
So there are things like westerns, trains - and she's also got some Mexican-inspired tattoos that she's itching to show off.
"There's a heavy Mexican theme. When I go to the States I pretty much live and breathe Mexican food, because it's where the most excellent Mexican is. And I've got a lot of tattoos now that are Mexican-inspired with the whole day of the dead vibe, skulls, crosses, and teeth, and feet coming out of heads and things."
And while she still likes playing the often dark and introspective Holy Smoke songs, she says she's moving on and ready to write the next album.
"I'm in a different place now, I've got a boyfriend now, which is quite rare for me and so I'm kind of happy at the moment, which is not very common. You know, I'm usually gutted about something," she laughs. "But now I'm ready to make another record. I'm into another chapter."
LOWDOWN
Who: Gin Wigmore
What: Finalist in five categories at the New Zealand Music Awards, including best album for Holy Smoke.
Tour: The Grave Train National Tour, Auckland Town Hall, Oct 9; Founders Theatre, Oct 10; Regent on Broadway, Palmerston North, Oct 12; Wellington Opera House, Oct 13; Christchurch Town Hall, Oct 16; Regent Theatre, Dunedin, Oct 17
- TimeOut