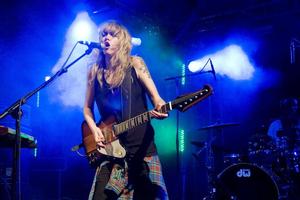 It was a year when local musicians headed overseas to do their thing – recording albums, touring, and generally making a big splash.
None more so than Pip Brown who, under the guise of Ladyhawke, went to London, visited Paris, wrote a song about her stay in the city of light, and found herself signing a deal with record label Modular.
While the Brits might claim their girls La Roux and Little Boots started the current wave of electro pop chicks, it was Brown who really kicked things off. With the pulsing Paris Is Burning, and '80s-inspired anthem, Back of the Van, she was soon anointed an "It Girl" by the British print media.
The album went on to sell more than 100,000 copies in Britain, 35,000 in Australia, and 8000 here. Latest single 'My Delirium' was especially big spending 14 weeks on the chart. Not bad for a former rock chick who grew up in Masterton.
Still, in September last year, just before her self-titled debut album was released, she was a little taken aback by all the attention.
"I've always just been plodding along doing my thing and I didn't really expect it to do what it was doing. All I did was record some songs and this stuff happened,' she told TimeOut.
Ladyhawke also played at March's SXSW music conference, the influential music and film industry showcase held every year in Austin, Texas. She was joined by 10 other Kiwi acts including dark but dulcet Auckland duo White Swan, Black Swan; hip-hop wordsmith David Dallas, who has just released his debut album, Something Awesome; Christchurch punks Bang! Bang! Eche!; pop rock upstarts Cut Off Your Hands; and Auckland's breakthrough rock act of 2009, Midnight Youth.
The latter two bands – both nominated in the best album and best rock album categories – have also been active overseas.
Cut Off Your Hands relocated to London last year to record their debut album You And I with former Suede guitarist and now star producer Bernard Butler.
The band met him in early 2007 and he recorded their Blue On Blue EP, but, considering he's the guy behind Welsh singer Duffy's 5.5 million-selling 2008 debut album Rockferry, getting him to do the album was a big coup.
"From a PR perspective it's pretty good, eh,' joked singer Nick Johnston last year, just after the album came out.
Despite Butler's reputation as a hard task master, the band and producer got along well and it helped he had the same vision for their debut as they did.
"Sonically I think we were really willing to create an album in the traditional sense. Bernard didn't want to do 12 hit singles. He's pretty unique and I think the reason why he's done so well is that he doesn't pander to what he thinks the radio is going to want.'
Meanwhile, Midnight Youth recorded some of their debut album, The Brave Don't Run, in New York, and the video for current single, 'Learning To Fall', was also shot in the Big Apple.
And south Auckland's favourite hip-hop son Savage continued his ride to the top in America late last year when his ass-shaking anthem Swing cracked the million mark in digital download and mobile sales. He reached the record breaking mark – outselling hits by OMC and Crowded House – in November, just a month after jointly winning the International Achievement Award with Flight of the Conchords at the 2008 music awards.
Other notable overseas excursions included Dave Dobbyn (up for best male solo artist) recording his latest album, Anotherland, in London with dub-guru producer Adrian Sherwood and American blues guitarist Skip "Little Axe" McDonald; Lawrence Arabia (real name James Milne) dividing his time between New Zealand, London, and Stockholm while recording his excellent Chant Darling; and the Mint Chicks, with four final berths this year after winning big in 2007, recording their latest album Screens in their adopted home town of Portland, Oregon.
That other lot who did pretty well internationally in 2008, Flight of the Conchords, were also back on the small screen this year. The second – and possibly final – series of Bret McKenzie and Jemaine Clement's show premiered in the US in January and on Prime in New Zealand in March.
It picked up where the last season left off with the lads still plying their trade in New York while manager Murray lives the high life following the success of Conchords off-shoot, the Crazy Doggz.
I Told You I Was Freaky, the follow up to the duo's self-titled debut, which won album of the year in 2008, is due out this week.
While many local musicians were overseas, a whole bunch of international touring artists came to New Zealand, with everyone from oldies such as Leonard Cohen and Simon and Garfunkel, to Kanye West and the Kings Of Leon playing shows.
And Neil Finn did his bit for international musical relations in January by inviting members of Radiohead and Wilco, Johnny Marr of the Smiths, and many others, to New Zealand for another version of Seven Worlds Collide.
The collective of musical mates performed a series of sold out shows in January and while they were at it recorded an album, The Sun Came Out, which was released in August with proceeds going to Oxfam.
Other international guests included Los Angeles art-metaller Serj Tankian of System of a Down, who is now a New Zealand resident, appearing on Boh Runga's debut solo album Right Here, which gets the elder Runga sister a nod in the best female solo artist category.
On the home front the single 'Brother' by South Auckland hip-hop trio Smashproof made headlines from the beginning as they re-enacted the case of 15-year-old Pihema Cameron, who was killed after being caught tagging, in the song's video.
But it's for breaking a 23-year-old chart record set by 'Sailing Away', the KZ7 America's Cup song, that 'Brother' will most be remembered for.
With the help of singer Gin Wigmore, the song held firm for 11 weeks at No. 1.
While the song didn't quite match Scribe's non-consecutive reign of 12 weeks at No. 1 for 'Not Many' and was no match for Boney M's 'Rivers Of Babylon', which spent 14 weeks on top in 1978, it was easily the year's biggest single.
And speaking of big years. Following their induction into the NZ Music Hall of Fame at the APRA Silver Scrolls last year, the Topp Twins' documentary, Untouchable Girls, broke the $1 million mark at the box office after only four weeks. It went on to take more than $1.8m and stands at No. 8 on the list of top New Zealand films behind the likes of The World's Fastest Indian, Whale Rider, and Sione's Wedding.
Produced by Arani Cuthbert, Untouchable Girls took a hilarious and moving look at the lives of the yodelling lesbian comedian twins. It featured performances, archive footage from their busking days, and numerous interviews with people as diverse as Rosie Horton, Helen Clark and Billy Bragg, as well as the Topps' parents. Deservedly, it also won best feature film (under $1m budget) at the Qantas Film and Television Awards last month. Just one top effort among many.