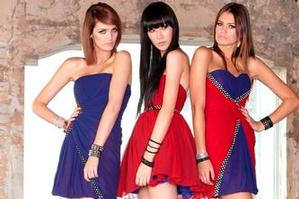 It may be all about the music for some, but tonight's Vodafone New Zealand Music Awards in Auckland will have a special fashionable touch, courtesy of local label Stitch Ministry, which has been anointed the "official fashion partner" of the awards.
Stitch Ministry designer Kylee Davis has created special one-off dresses for the on-stage ushers as well as a gown for popular ex-New Zealand's Next Top Model contestant Ruby Higgins, who will be hosting the backstage coverage for C4.
Davis has also designed a limited edition T-shirt, available for the wider public to buy from Stitch Ministry's online store for $49.
The specially created one-off dresses, which will help provide some much-needed glamour to the event at Vector Arena, are all about reflecting New Zealand, explains Davis.
"It was all about cohesion and linking back to the award's T-shirts where the NZ flag is incorporated in the tiki design. Each dress design varies and is specifically tailored to its model.
Because I wanted to customise the gowns to each different person, I needed models who would do the gowns justice!
"The ushers were not only cast on their looks but we needed the girls to evoke a personality that would enable the gowns to really stand out, make a statement and capture the limelight on stage."
Following the awards, one of the custom-made dresses will be donated to the Raukatauri Music Therapy Centre's annual charitable auction.
Higgins' dress will be similar to these dresses, with her own special twist.
"I was very excited by the opportunity to style Ruby for the awards. I wanted her dress to be an extension of the three ushers' gowns. Being a presenter her dress needed to stand out, have that X-factor and be something that she would enjoy wearing," says Davis.
"Her dress is more of an electric blue with no red, largely to complement her skin tone. It had to be vibrant, sexy and fun, reflecting Ruby's personality, and something that would look amazing on camera.
"Given the VNZMA's are a red carpet event, the dress needed to be sophisticated: as well as bearing in mind all those criteria I had to design a dress that was a bit different from the other stage usher but still visibly stemmed from these designs."
Davis is also set to style some of the key female musicians attending on tonight, including Gin Wigmore, Ladyhawke, Ladi 6, Iva Lamkum of Sola Rosa and Boh Runga. Davis is especially looking forward to working with Wigmore and Lamkum.
"I love Gin's sound and personal style, she has a very cool rock chic-look about her. You can tell she loves fashion as well which would make her exciting to work with. I'm also really looking forward to my styling session with Iva Lamkum, she's absolutely striking and her unique look will be great to work with!"
But it's host and funny guy Dai Henwood who has been Davis' favourite person to style so far.
"Last year he was a presenter at the awards and we got the chance to style him in a one-off tailored suit for the occasion. He was fantastic to work with, he has such a great attitude and personality, and he doesn't mind pushing the boundaries. That made the whole styling process really enjoyable."
Fashion and music have long had a mutual relationship - Roisin Murphy performed during Viktor & Rolf's show in Paris last week, Jean Paul Gaultier is designing costumes for Kylie Minogue's upcoming tour and fashion designers are always naming music as a key influencer in their designs - so it's easy to see how this local fashion/music partnership works.
Davis - who presented a collection at New Zealand Fashion Week last month that was inspired by music - sees music and fashion as going hand in hand.
"They are expressive forms of art and truly complement each other, both playing important roles in my life. I am a huge advocate of NZ music and being able to work at this level, at the VNZMA's, has been amazing for Stitch Ministry.
"Sgt. Peppers, the recent winter range, is very musically inspired with a subtle rocker chic tone. Being associated with the music awards is perfect positioning for us and great for endorsing the relationship between music and fashion that I so strongly believe in!"