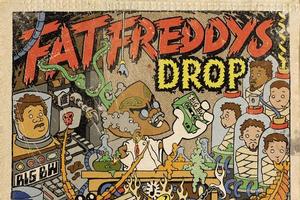 They are the knob-twiddlers, tweakers and perfectionists of the album recording process. And increasingly, the producers, and sometimes the engineers, are also key members of the band. Chris Faiumu (aka Mu) from Fat Freddy's Drop is the prime example, having engineered, and, along with his six band mates, also produced the Wellington chart-toppers' second album, Dr Boondigga and the Big BW at his Wellington studio, The Drop.
Then there's Andrew Spraggon, who as Sola Rosa has gone from being a sample-based producer to a live instrument approach, and old-hand Don McGlashan says he couldn't have created his second solo album, Marvellous Year, without his band the Seven Sisters and co-producer Sean Donnelly (aka SJD) to "push me and throw banana skins in my path whenever I got complacent".
Rounding out the best engineer category is Andrew Buckton, a veteran who's worked with everyone from Crowded House to Bic Runga to the D4, and Lee Prebble, whose work on Spartacus R's wild and freaky debut, When The Fever Takes Hold, makes you wonder what sort of odd goings-on must transpire in his Wellington studio, aptly called The Surgery.
So in their own words, here's the five finalists' very different takes on what an engineer and producer does during the recording process:
Andrew Buckton
Finalist: Best engineer
For: Midnight Youth - The Brave Don't Run
Past work: Bic Runga - Bursting Through (single, 1997); The D4 - 6Twenty (2001); Sommerset - Say What You Want (2004)
What does an engineer do?
It ranges from the technical to the personal. There are a lot of technical skills in terms of what you're doing in the studio, but also the personal side of interpreting peoples' intentions, their wishes, and getting good performances out of them. Because at the end of the day it's their song and your job is to get them where they want to be in the end - even if the process is not always what they envisaged. The best relationship is [based on] trust.
Does it make any difference where the engineering process takes place?
A place where the artist feels comfortable and inspired is important. I was one of the first to break away and make a small studio where you didn't have to pay large sums of money for time, which meant we could step our production levels up because we weren't looking at the clock every five minutes. For me, that's the thing that so often New Zealand records lack, they just don't have the time spent on producing them properly.
What was the most unique aspect about The Brave Don't Run compared to your other work?
It was a special project for me because I'd been working with and mentoring these guys since they'd been at school. I remember going out to one of their band practices in a garage when they were still at school, this would have been five years ago, and straight away I had a feeling something really special happening. So it was kind of special for me to see how it turned out in the end.
Lee Prebble
Finalist: Best engineer
For: Spartacus R - When the Fever Takes Hold
Past work: Engineered all albums by Black Seeds, Phoenix Foundation, Trinity Roots, and Fly My Pretties.
What does an engineer do?
What do I do? The basic task is to put whatever the band is doing on to a recorded medium, controlling the equipment to do that, like setting up microphones and balancing everything. It's handling the technical side of recording music.
You can really make or break the album - it's the difference between an album sounding really great or really bad. But if an album sounds really great you almost don't hear what the engineer has done.
What was the most unique aspect about When The Fever Takes Hold compared to your other work?
Working with two of my brothers, Tim and Ryan. It was special watching them create some really amazing music so it was a very emotional record for me to work on.
A lot of bands you know for a few years, which gives you a small insight into where their music has come from, but with Spartacus R there's a lifetime of insight.
How has the art of engineering changed in recent years?
It's very different and that comes down to being able to record things digitally and being able to change and manipulate things at any stage. Whereas in the days of tape what you put down is essentially what you had to work with. So there are endless possibilities now and one of the major tasks of an engineer is to know when to stop and not edit the life out of the music - mistakes are good at times.
Chris Faiumu (Mu)
Finalist: Best engineer, best producer (with the members of Fat Freddy's Drop)
For: Fat Freddy's Drop - Dr Boondigga and the Big BW
Past work: Fat Freddy's - Based On A True Story (2005); Ladi 6 - Time Is Not Much (2008)
What does an engineer do?
The main job is to capture what's happening in the room and doing it in way that's not stagnating any creativity. You also have to capture it as high end as you possibly can but that's when you've got to balance it, and decide to get in the way for the sake of getting a really good sound or back off and go with the vibe more than the sonics of it.
So what about a producer's role?
The producer is more involved in dictating the flavour and musicality of a piece of music and the engineer captures good sonics. You can have a producer who doesn't actually know how to run a mixing desk, or a microphone, but just someone who knows about melodies and the chords that work.
With our stuff, we definitely self-produce as a collective because everyone has good ideas in that area. It's definitely a team effort, and I don't actually see myself as a producer, it's the group.
Does it make any difference where the recording process takes place?
Oh yeah. Recording stuff here at the Drop is all about vibe, comfort, and not watching the clock.
What was the most unique aspect about Boondigga compared to your other work?
There is nothing majorly different, but I think we made a point of capturing performances within songs. Going for long takes of guitar and horn parts, back to a way of recording where it was all about capturing performances as opposed to loops.
Andrew Spraggon
Finalist: Best producer
For: Sola Rosa - Get It Together
Past work: All four Sola Rosa albums, including a Tui award for 2001 debut Solarized
What does a producer do?
The role has changed over the years - back in the day of the studio you would have the engineer, and then the producer who would select the mood or vibe and feel of the album. I don't think that role has changed as much, it's just that now in the DIY world you have to learn how to engineer and produce at the same time. I guess it's just all about being in control of how you want your music to sound and attention to detail.
How has the art of producing changed for you over the years?
I've gone from a sample-based producer to a live recording producer. I still like the art of sampling, but everyone I work with in terms of publishers and managers gets so uptight about using samples, to the point of paranoia, and I'm like, 'Nobody is going to know what it is'. So now I'm more interested in the live recording process and inventing my own sounds which is definitely more exciting than stealing other peoples. And it's more rewarding sitting in the studio with a guitarist, or a drummer, and having that kind of rapport than sitting in a bedroom by yourself for two years.
What was the most unique aspect about Get It Together compared to your other work?
The decision to focus on the band and bring it more into the recording process and we've finely tuned ourselves over the years. I can bring any member of the band into the studio and they can immediately pull out whatever I'm after, so we are really in tune with one another, which is really important for me.
Don McGlashan (with Sean Donnelly)
Finalist: Best producer
For: Don McGlashan and the Seven Sisters - Marvellous Year
Past work: Blam Blam Blam - Luxury Length (1982); The Mutton Birds - The Mutton Birds (1992); Don McGlashan - Warm Hand (2006)
What does a producer do?
There's the technical side of it, making sure the record can be as good as it can be - getting things in tune, making sure the engineer is getting good sounds down, and do justice to songs and all the ideas. Then there's the devil's advocate role to listen to the songs and say, 'That's not good enough'. Basically pushing the artist to do their best work. You do get a bit tunnel vision in the studio and its nice to remember that you are making something that's going to be in somebody's home, or car, and it's actually part of the world.
So is that where [co-producer] Sean came in?
Yeah, I was able to bounce ideas off him and sometimes it can be things like, 'You don't need the second bridge in that song'. Or sometimes it's more inspired like, 'This one needs some backing vocals, but they need to be really fruity'. It's basically curtailing the bad instincts of an artist and pushing the good instincts.
What was the most unique aspect about Marvellous Year compared to your other work?
It's such a big shift for me from going 10 years working in a band, where everybody's got their jobs to do to and Warm Hand where I could do whatever I like. But with Marvellous Year I think I'd got to the point where the Seven Sisters had been together for a couple of years and it's a great group of people to bring songs to because they pick up and run with them straight away. And I was able to be a bit more flamboyant sometimes because I could trust Sean because we've worked together a lot ever since the Mutton Birds finished.
LOWDOWN
Who: The producer and engineer finalists (sponsored by MAINZ) in the 2009 Vodafone New Zealand Music Awards
When: The winners are announced September 2, when the finalists for the main music award categories will also be revealed. The awards take place at Vector Arena, October 8