Andy McGechan profiles the Enduro champ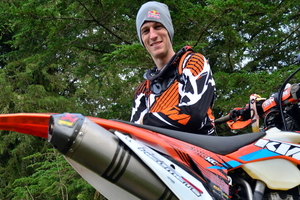 Auckland's Chris Birch is back where he belongs: on top of the national Enduro rankings. And now the multi-time Kiwi Enduro champion is ready to take it offshore again and put himself back on top of the world.
After a two-year stint living and racing in South Africa, the KTM rider returned to New Zealand and immediately proved himself to be the man to beat on the national Enduro scene. In the fifth of seven rounds in the New Zealand Enduro Championships in the Maramarua Forest near Te Kauwhata, just over a week ago, Birch made it five wins in a row and celebrated yet another national Enduro crown.
Birch (KTM 350XC-F) won all but one of the eight "special tests" on the tree-root-riddled ground at Maramarua, edging out fellow Auckland KTM rider Freddie Milford-Cottam by nearly three minutes.
He's now an unbeatable 37 points clear of the defending national champion, Mokau's Adrian Smith (Yamaha YZ250), in the race for overall honours, and has extended his lead in the Expert over-300cc four-stroke class to a massive 24 points over Tauranga's Reece Burgess (KTM 450EXC).
With riders able to discard their worst result, it means Birch has wrapped up the national title for 2013 with two rounds to spare. He can skip the last two rounds and still win the championship.
"It was a great day," says the 32-year-old. "It was a hard and slippery, muddy, long Enduro... I loved it.
"Events like this sort out the riders who work on their fitness and training from those who don't. I've been training really hard lately, with running, swimming and cycling as well as lots of gym work, so I'm very fit."
Birch will shortly board a plane to Romania to take on the world's elite extreme Enduro specialists at the big annual Red Bull Romaniacs Enduro at Sibiu from July 2 to 6. "I needed to race hard at Maramarua and not just relax because I had a good points lead. I really need to have my act together for the Romaniacs Enduro," he says.
Birch won in Romania in 2010. He has also twice finished runner-up at the Romaniacs and has been third overall on three occasions. "I finished fourth overall last year, which was pretty good really, considering I broke my leg on day one. But I kept on riding... because I'm an idiot," he laughs.
Another rider who wrapped up his bike class early at the Enduro Championships round at Maramarua is Tokoroa's Sean Clarke, riding a KTM 300EXC. Clarke finished fifth overall, which was enough to give him the veterans' class title for 2013.
Milford-Cottam's runner-up finish at Maramarua put him 30 points in front of Hokianga's Damon Nield (Husqvarna CR125) in the hunt for under-200cc two-stroke class glory.
Auckland's Callan May (Yamaha YZ250F) finished fourth overall at Maramarua and extended his lead in the under-300cc four-stroke class to an almost unbeatable 30 points over the new number-two in the class, Northland's Mitchell Nield (YamahaYZ250F).