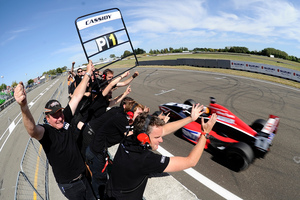 New Zealand's international single-seater championship will probably be raced in new cars next summer.
At Sunday's awards ceremony at Toyota New Zealand's headquarters, the company's general manager of finance, John Fowke, floated the idea that after nine years the Toyota Racing Series cars may have come to the end of their life.
He said a decision to look at a new car would be made soon. The company intends to explore replacing the chassis, engines and gearboxes.
Fowke said it might also be time to upgrade the long-serving Tatuus chassis and tubs.
He pointed out that although the cars had been put through the wringer and survived some impressive prangs, there was a lot to be said for a new look and incorporating the latest safety features.
The cars are put through 15 races in five weekends throughout New Zealand. It's the intensity of that back-to-back racing that attracts overseas drivers to the series, as they can get more race kilometres under their wheels than in a season of European racing.
Such is the popularity of the championship internationally that only three Kiwi drivers contested the entire season. They were joined by Mitch Evans for a one-off gig at Hampton Downs and 71-year-old Kenny Smith, making his annual sojourn to the New Zealand Grand Prix at Manfeild over the weekend.
It was Smith's 47th hit-out at the Grand Prix and he came home 16th in a field of 20.
Even better was that, despite 17 international drivers in the field, the championship and the Grand Prix title remain in Kiwi hands.
After nine years of TRS racing an overseas driver has yet to win either title, and defending series and NZGP champion Nick Cassidy has his name engraved on both trophies again.
"This race [New Zealand Grand Prix] was massively important and we had been planning it for a while," said the 19-year-old. "They tell me I'm the youngest ever two-times winner of the New Zealand Grand Prix. That's amazing."
Brit Alex Lynn was always less than a second behind but could not get close enough to challenge.
Three safety-car periods following crashes bunched up the field but each time Cassidy timed the restart well and stayed safely in the lead.
Although he has again beaten a field including several with established reputations in Europe, Cassidy is finding it hard to raise the cash to achieve his ambition of racing single-seaters in the Northern Hemisphere.
"Before the race I had no money and now I've got $5000. Funding is the only issue that's really holding me back from going to Europe again.
"At the end of the day I've proven that I'm capable of beating the premier junior guys from Europe and I'm keen to get back there."
Dutch driver Steijn Schothorst, who had his first win on Saturday, came third.
Austrian Lucas Auer shot from 11th to fourth in the early laps with some excellent passing moves but faded to sixth. Brazilians Pipo Derani and Bruno Bonifacio came in fourth and fifth, Derani having made some brave overtaking manoeuvres.
Cassidy won the series from Lynn, Auer, Schothorst and Bonifacio.
In the NZV8s Championship, Australian Jason Bargwanna looked set for a clean sweep until his car rolled to a stop while he was leading the last race. He managed to restart and finished fourth, while Nick Ross won from Martin Short.
"It was an electrical problem but we don't know exactly what it was," said Bargwanna.
With two rounds to go, he leads Short by 12 points, with Ross third, 96 points further back. These three all drive the new-generation cars - Short a Toyota Camry and the other two Holdens.
Teenage brothers AJ and Brad Lauder are first and second in the category for the original cars despite Andrew Anderson winning all three races at Manfeild.
Rookie James Munro won all three Formula Ford races after fierce scraps with Tom Alexander, and has closed to three points behind championship leader Brendon Leitch.