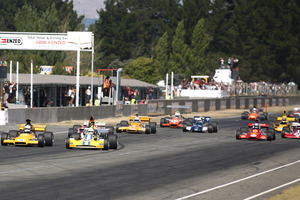 Clark Proctor, the man of the moment in the NZ F5000 Tasman Cup Revival Series, did it again in the 12-lap final at the Skope Classic at Ruapuna Park on Sunday.
The Auckland-based driver claimed his first pole position and win at the fifth round of the MSC series at Hampton Downs a week before.
Proctor could have made a clean sweep in the south but a brake line blew while he was leading the second race.
Defending champion Steve Ross shadowed Proctor in race one, picked up a win in race two and followed Proctor home in race three.
After the final Proctor was happy talking about Ross who, like fellow former champion Ken Smith, has set the bar so high. "Steve's a good competitor, a great guy to race against and a good all-round guy off the track as well," said Proctor.
"He and Kenny are the guys who have set the milestones in this class so they are the guys, when you come into the class, you aim at. Yes, the class is first and foremost about the cars. But there's still an element of competitiveness among the drivers and Steve is a benchmark so it is really great to compete with him at this level."
Round seven is at Teretonga from February 15 to 17.