After a bit of a hiccup at round two of the New Zealand Superbike championships at Timaru, normal transmission was resumed for Australian Robbie Bugden at Teretonga last weekend.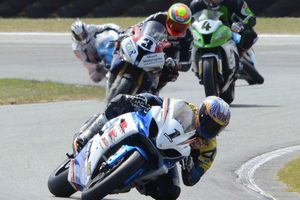 With three rounds of the series done and dusted, Bugden has only been bettered once and now has a commanding lead in the championship over the only other race winner, Craig Shirriffs, with Dennis Charlett in third.
Bugden's race wins didn't come easy though; he had to battle the elements as well as the other riders.
In a blustery wind that upset the balance of the bikes, the Australian held off a feisty Sloan Frost take the race one win with Shirriffs in third.
In race two, it was Shirriffs who was chasing the Australian and Sloan had to settle for third.
"It's been a tough day to be honest. The wind could push you a metre or two either way and coming on to the main straight," said Bugden.
"It was difficult to feed the throttle in because the wind was trying to wash the bike away."
Frost bugged Bugden the entire time in race one and, despite his BMW being at its best, just couldn't get past the four-time champion.
"It was a pretty good battle, he was putting the pressure on," said Bugden after winning by just two-tenths of a second.
Shirriffs was looking emulate his good form from Timaru where he got one over Bugden but suffered from a poor start in race one and could only climb back into third at the chequered flag.
A better start in race two saw Shirriffs contesting second place early in the race while Frost suffered from a bad start and had to fight back to get third.
"That was probably the worst start I've ever had," said Shirriffs after the first race.
"In race two, Ryan Hampton led the first lap-and-a-half on his Honda.
"Robbie passed him but it took me awhile and, by then, Robbie had a gap.
"The wind was ridiculously hard, it was pretty scary to be honest."
In 600cc Supersport, John Ross established a sizeable lead in the championship by winning both races on his Suzuki, although Auckland teenager Jaden Hassan led many of the laps but could not make it stick at the chequered flag.
Australian teenagers Troy Guenther and Luke Burgess maintained their big leads in the 125 GP and 250 Production series respectively. Richard Newbery continued to dominate the Superlite championship on his Kawasaki, while Hamish Murphy retained his lead in the Pro Twins 650 series.
All the riders can take a breather now the three South Island rounds have been completed and take stock before the series recommences at Hampton Downs, March 16-17.

Pack leaders
NZSB Championship points
1 Robbie Bugden 145
2 Craig Shirriffs 121
3 Dennis Charlett 81
4 Nick Cole 73
5 Sloan Frost 68