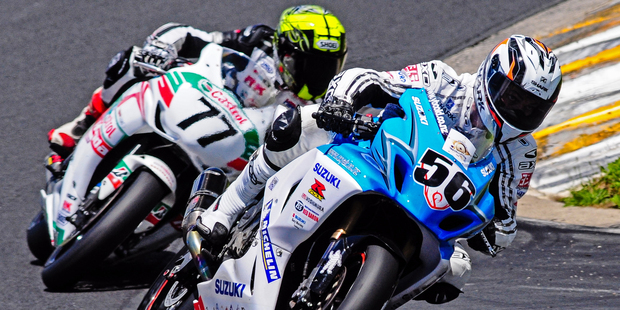 The New Zealand Superbike Championship series left Timaru last weekend for Teretonga in Invercargill with Australian Robbie Bugden still in the lead.
He didn't have it all his own way, though - New Zealander Craig Shirriffs made the move of the day and won race two with an audacious pass towards the end of the race.
Another Kiwi, Kawasaki rider Nick Cole, is on the cusp of getting a win; he was only two-tenths of a second behind the two Suzuki riders. But it's Shirriffs who Bugden will be looking out for.
"I'm really looking forward to racing here, especially if the sun is out and the wind isn't," said Shirriffs.
"I really like the layout of the track and is probably my most enjoyable track in New Zealand to ride - on a nice day, of course.
"I'm more than happy with the bike and the way it's working so we should go well. The goal is to get another win over Robbie. It'll be hard as he's bloody fast here as well.
"My main goal now since we have a bit of a points gap over the others is to finish in front of Robbie.
"Of course I want to win races, but looking at it sensibly, if someone's bolted to the front, I'm not going chasing after them if Robbie is somewhere behind me."
Bugden, a professional racer who is also in the Australian championship, remains the man to beat but says he knows it won't be easy.
As well as Shirriffs, he sees riders such as third-placed Dennis Charlett and Sloan Frost as threats.

After two rounds
1. Robbie Bugden 95
2. Craig Shirriffs 85
3. Dennis Charlett 61
4. Nick Cole 49
5. Hayden Fitzgerald 42
6. James Smith 37
7. Ryan Hampton 36
8. Sloan Frost 32