Donny Schatz is focused on doing the job - and winning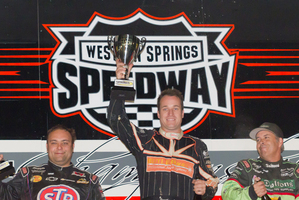 New Zealand speedway fans have already seen speedway champion Donny Schatz race at Western Springs Speedway this year, and are in for another treat this weekend.
The four-time World of Outlaws sprintcar champion had the pedigree and the skills to win the World Sprintcar Classic last weekend, but fellow American Jonathan Allard took the trophy home.
Schatz won the race last year, but couldn't get the job done this time. "Any race you go to you hope to win, but some nights just aren't that way," Schatz told Driven.
"Jonathan did a great job. At one point I thought we'd be okay, but his car went by and he threw everything at it."
Schatz is looking forward to redeeming himself at the World Sprintcar Classic tonight, so the rest of the field better be on their game.
"I wouldn't say losing last weekend has got my tail feathers up, but the expectations are we will do our best to make sure we can get ourselves in the position of getting that victory.
It's a long way to come and not win a race.
"It doesn't matter where you go, there are great racecar drivers all over the world. It's definitely no different here. The drivers here are very professional and do a phenomenal job. It's not easy to stay ahead of the curve."
The 35-year-old from North Dakota has been around speedway since he was five, when his father - a former racer - took him to a sprintcar meeting. He's passionate about the sport.
"That's why I'm here. It's the passion that drives most racers. I've done a little bit of all the parts of the sport and the most fun part of it for me is doing what I'm doing right now - driving.
"Winning titles doesn't mean you want to stop winning. It's like having a bad habit you can't get rid of."
Schatz has a reputation as a man who doesn't show too much emotion but to him racing cars is no smiling matter.
"It's all about focus. Sure it's entertainment, but what provides the entertainment is putting the game face on, getting serious and being victorious.
"You have to stay focused if you want to be successful in this game.
"I don't know you'd ever look at it as a job in the normal sense. We're very fortunate to be able to do the things we love to do."
While the midgets put on a show with their lightning speed and agility, it's the sprintcars - the monsters of the speedway circuit - that make the heart rate pick up.
They may not be the most aesthetically pleasing racecars, with huge offset wings and different sized tyres, but they look spectacular when everything is working properly.

Career highlights
World of Outlaws winner
2006-07-08-09
Knoxville National winner
2006-07-08-09, 2011
Kings Royal winner 2006-07
Don Martin Memorial Cup winner
2006-07
National Open winner 2000.
2004-05, 2007
Won 116 WoO A-Feature races