Action-packed World Classic thrills the fans, writes Barnaby Sharp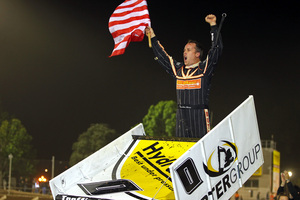 While the midgets epitomised the notion of pocket rockets - lethally fast and with light-speed acceleration - they weren't the sole reason thousands of race fans parked up at Western Springs Speedway last Saturday night.
Although there were 22 races, the main event was the World Sprintcar Classic - and the main man, American Donny Schatz. A five-time World of Outlaws sprintcar champion, the 35-year-old from North Dakota is considered by his peers as the one to catch.
And yet it was a fellow American, Jonathan Allard, starting from third on the grid, who stole the thunder. Driving flawlessly, he edged Schatz into second and Australian Peter Murphy into third in an action-packed feature race.
Allard is stamping his authority at Western Springs, having set a track record this season with 11.534 seconds, reaching an average speed of 143.5km/h.
With this victory he is starting to make the track his own.
"Well, it's just an honour,"Allard said. "Donny is the world champion and we've raced him at home quite a bit. He's shown me the ropes pretty quickly, so it was good to get one. And Peter Murphy - what a class act!"
An upbeat Schatz said he was determined to come back in this Saturday's World Sprintcar Classic - Final Showdown.
"Jonathan did a great job. At one point I thought we'd be OK here, but his car went by and he threw everything at it. But I hit everything there was to hit too. That's the way it goes some days.
"Any race you go to, you hope to win - but some nights just aren't that way."
Schatz said he loved coming to Western Springs, having won the same race last year.
"We're having such a good time it's a shame we only get to be here for two nights. I wish we could stay here and run a whole season. But I think my family has a little bit more to say about that than what I want.
"But I'm looking forward to coming back next week and hopefully leave with a big trophy."