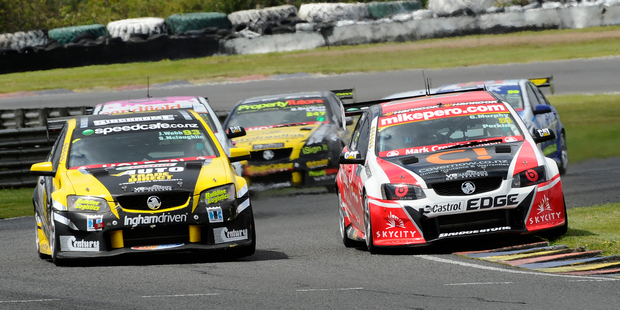 One of New Zealand's best-known V8 racers, Greg Murphy, turned back the clock at Pukekohe last weekend by dealing to the rest of the field as they took to the existing track for the last time.
Winning two of the three races, Murphy and co-driver Jack Perkins were chased, harangued and pushed by the same pairing in every race.
Scott McLaughlin and his co-pilot Jonathan Webb snatched the first race win on Saturday from Murphy and co, but couldn't repeat it on Sunday.
Murphy settled into his Pukekohe rhythm from days of old; from 2001 to 2007 he won four of the seven rounds, collected nine race wins and the lap record.
But he fought back at ageist comments to be on top of the podium for the first time since 2005.
"I feel like I belong here today and the talk of the age crap gives me the ****s," said Murphy.
"We've all got the same equipment out there and that's a big incentive. Australia is a drag at the moment and there's not a lot of enjoyment there at present.
"To be able to come here and tune the car and work on improvements is great. There's no question about it. I love coming here and love Puke and I haven't done a competitive lap here since 2007 and it hasn't changed for me.
"All the bumps are in the same place and the character of the place is still the same. You get rewards here if you push a bit harder."
McLaughlin, however, took the overall lead in the V8 SuperTourer 2012 championship after three races over the weekend and with one round to go looks to be a solid bet.
"I really enjoyed the opening laps going side by side through the first few corners," said McLaughlin. "I'm pretty happy with the weekend's result and we managed to look after the gear.
"My only mistake was overshooting the pit box, which cost a lot of time. Overall it was good fun."
The final round of the series is at Ruapuna, November 24-25.
Shane's driftingV8 Supercar driver Shane van Gisbergen proved yet again he is no slouch when it comes to race engines and cars.
His latest adventure was to debut at the opening round of New Zealand's Cody's D1NZ National Drifting championship at Feilding's Manfeild circuit on Friday and Saturday.
He was sharing a V8 powered Ford Falcon drift car with Shane Allen and managed to make the last 32 in his first attempt at the sport.
He came up against former New Zealand D1NZ champion Dan Woolhouse but gave him a run for his money.
"Dan was good. I did quite a few runs with him in practice and learned quite a bit. I've still got heaps of stuff to learn but it was good being able to battle with the top guys because I could learn the lines and the approaches. When I was doing it by myself I was getting them all wrong so going out with them was a big help," said van Gisbergen.
He returns to Australia this week before heading off to Abu Dhabi for the next round of the V8 Supercar championship.