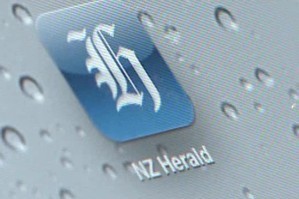 UPDATED 4:28pm 6/05/2014 An updated version of the NZ Herald iPad app has been released and is now available for download from the App Store.
Download the new version here.
The update fixes an issue that was causing the app to crash intermittently.

EARLIER: We've worked hard to ensure our app is as stable as possible, but as is often the case when a new piece of software or hardware is introduced to the market, problems can come to light that weren't picked up during testing. Fortunately the iPad has a facility to anonymously transmit detailed technical reports which we can use to help pinpoint the cause of issues like the one you may have experienced.
In order to get back up and running as quickly as possible please carefully follow this procedure step by step.
1. Plug the iPad into your computer and ensure that it syncs with iTunes.
2. Locate the iPad in the "Devices" section of the left-hand pane in iTunes. Click it to show the details of the device.
3. In the detail display, locate the "Apps" tab.
4. You will be shown a list of the apps installed on the iPad. Locate the "NZ Herald" app and remove the tick from the box.
5. Click "Apply" in the bottom right to remove the app from your iPad.
6. Once iTunes says "iPad sync is complete. OK to disconnect", unplug the iPad.
7. Reboot the iPad by pressing and holding down both the Home and Lock buttons simultaneously. Continue holding them when the screen says "slide to power off" - the screen will go dark and then, shortly afterwards, the screen will show an Apple logo to indicate the device is rebooting. Do not release the buttons until you see the Apple logo.
8. Once the iPad has finished rebooting, plug it back in and ensure iTunes is active.
9. Navigate again to the "Apps" tab and locate the "NZ Herald" app as described in steps 2 through 4. Add a tick in the checkbox you unchecked earlier.
10. Again, click "Apply" in the bottom right. This will re-install the app on the iPad. Wait for the "iPad sync is complete" message to indicate that syncing has finished.
Once all of these steps are complete, you can unplug the iPad and re-try the NZ Herald app.
By following this procedure exactly, automated crash logs will be sent to the server - these are essential for us to make fast progress in resolving your issue. Re-booting the iPad is important because it returns the device to a base state and rules out a range of possible problems.
If after trying the above you're still experiencing issues with our app, please contact us via twitter at twitter.com/nzheraldsupport or send us a report by clicking here.