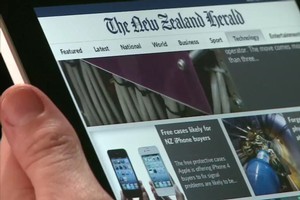 What is The New Zealand Herald iPad App?
The NZ Herald iPad App brings you all your favourite sections of the Herald combined with the interactivity of the iPad and can be downloaded for free from the Apple App Store.
The content is hand-picked by our editors to point you towards the most important stories of the day - the ones which matter to New Zealanders. And the latest news section ensures you keep up-to-date in real-time everywhere you go.
What features does The New Zealand Herald iPad App have?
The NZ Herald iPad App brings you the latest news as well as the best National, World, Technology, Sport, Business and Entertainment news from the Herald. It is custom-built to play to the strengths of the device so you can touch, zoom, tap, pinch and dive-in to the very latest news coverage, exclusive video and engaging photojournalism.
Articles, photos and videos can all be viewed in portrait or landscape mode and you can move from article to article, photo to photo, with the swipe of a finger.
Where do I get The New Zealand Herald iPad App?
You can download the NZ Herald iPad App by browsing to the App Store on your iPad. http://itunes.apple.com/nz/app/the-new-zealand-herald/id383004440?mt=8&ign-mpt=uo%3D4
(this link will open iTunes)
Does it cost anything to use The New Zealand Herald iPad Application?
There is no charge to download the App. Please do be aware however, that you will incur data charges from your mobile provider, if using 3G or your ISP if using WIFI.
How can I advertise on The New Zealand Herald iPad App?
There is a great range of advertising options available on the iPad App. Please call our advertising sales team on 09 373 9154 or email advertising@nzherald.co.nz for full details.
What is the difference between The New Zealand Herald iPad App and nzherald.co.nz or the mobile web site?
Both the nzherald.co.nz mobile site (m.nzherald.co.nz) and nzherald.co.nz are accessed through a mobile device's web browser and require a continuous Internet connection. There are also some features on the main site that are not compatible with the iPad - for example, video.
The NZ Herald iPad App however has been specifically designed to take advantage of the high-resolution display of the iPad, allows you to play video and photo galleries and enables you to download the latest news directly to your device so you can read it offline.
How do I remove The New Zealand Herald iPad App from my device?
Simply follow the same procedure you use for removing any other iPad App. Press and hold the "NZ Herald" App icon until it begins to wiggle. Press the "X" in the corner of the icon and confirm, within the pop-up window, that you wish to delete it.
What if I have feedback or questions about The New Zealand Herald iPad App?
We always appreciate feedback from our readers. If you have any questions or feedback on our iPad App, please send it via the form here: http://dynamic.nzherald.co.nz/feedback/email.cfm?user=onlineeditor