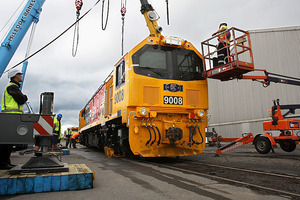 KiwiRail is planning to cut 320 jobs from its infrastructure and engineering unit over two years. Photo / Sam Ackland
Opposition parties say job cuts at KiwiRail are a step towards its sale, but the Prime Minister has assured New Zealanders the troubled company will not go on the block.
Consultation documents released by New Zealand First show the Government-owned company needs to save $200 million over three years.
They show KiwiRail's infrastructure and engineering unit plans to cut 220 jobs from its 1000 staff this year and a further 100 next year - a $14 million saving.
The rest of the savings would come from cuts to its network spending.
Last month KiwiRail's value almost halved after it slashed $6.7 billion from the business.
Prime Minister John Key said the Government did not plan to sell KiwiRail and would continue to invest in the company, but would not intervene to save jobs.
"The Government has been a heavy investor. We've put $1.8 billion into KiwiRail in recent years and we will continue to support the business."
Labour Party transport spokesman Phil Twyford said job cuts were the result of unrealistic financial targets set in the 2010 Budget, when the Government provided $750 million to back a plan to build KiwiRail into a self-sustaining freight-based business.
Mr Key said at the time it was part of a $4.6 billion "turnaround plan" - $3.85 billion was to come from KiwiRail.
"The plan was designed before the Christchurch earthquakes and before the international financial crisis began to bite. As a result KiwiRail has been unable to meet revenue targets," Mr Twyford said.
He said the Government needed to revisit the plan.
"We know privatisation is high on National's agenda. It would be appalling if we were to go down that track again. The privatisation of our rail system was a textbook study in how to destroy value. It was asset stripped and run into the ground."
He said the Government should put more money into its turnaround plan instead of investing $12 billion in motorways.
Green Party co-leader Russel Norman agreed that job losses were the result of National underinvesting in rail and spending on motorways instead. "Today's move is a kick in the guts for workers and sustainable transport," he said.
New Zealand First's transport spokesman, Brendan Horan, said New Zealanders were being kept in the dark about the future of KiwiRail.
"The Government is gutting our rail network so it can be flogged off on the cheap to a private investor. We've been there before and it proved to be a costly disaster for taxpayers."
KiwiRail general manager of infrastructure and engineering Rick van Barneveld said no decision had been made on the number of job cuts or the location of the cuts.
The Rail and Maritime Transport Union's general secretary, Wayne Butson, said consultation meetings with staff began in Northland two weeks ago.
Further meetings were being held this week in Marlborough, the West Coast and Dunedin, and would end in Invercargill on Friday.
- APNZ