SkyCity convention centre up against hot regional competition as capacity grows.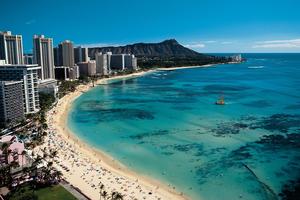 The planned SkyCity convention centre will face hot competition around the region.
Exhibitors from the Pacific, Asia and Australia have been promoting their venues at a meetings, convention and incentives industry expo in Auckland and say new capacity is already being built in other countries.
SkyCity has won approval to build a $402 million centre in Auckland in return for the Government extending its gaming licence for 35 years and allowing an extra 230 pokie machines and 40 more gaming tables.
Prime Minister John Key says it will bring hundreds of thousands of high-paying tourists to New Zealand.
Hawaii has a 15-year-old convention centre on Waikiki Beach which two years ago held the Apec meeting and tourism representatives were at the Pacific Area Incentives and Conferences Expo last week.
Brian Lynx, vice-president of meetings, conventions and incentives at Hawaii Tourism, said the convention centre was under-used at the moment, largely because recovering United States mainland companies were wary of travelling too far.
"From the US side of things there's a perception issue. 'Coming to Hawaii - is that a serious meeting?' So we're always battling that," he said.
"Right now there's more supply than demand, that's why we're pivoting to Oceania and Asia."
Convention and meeting guests take up about 500,000 bed nights in the islands a year with many opting to stay on after meetings that are typically three to five days long. Most hotels offer convention rates before and after the meetings, he said.
Excluding air fares, conference guests spent about US$320 a day.
Scott McConnell, Langham Hospitality Group's associate director of sales in Australia, promotes the Langham in Auckland and also says the perception factor works against NZ.
Holding a conference in Auckland was probably cheaper for a firm than flying people to an Australian city from around that country but that did not necessarily make a difference.
"Your client is concerned about staying onshore because the perception of spending money in Australia is a good thing. For instance we had a chance of a pharmaceutical conference coming to Auckland but it was perceived they were going overseas rather than spending at home."
He said NZ was up against more exotic and easier-to-reach destinations in Hawaii and Vietnam but would remain attractive to Australians because of cost and plenty of air capacity across the Tasman. Melbourne and Brisbane had convention centres and Sydney was expanding.
Starwood Hotels and Resorts books conventions and meetings around the world and its New Zealand director of global sales, Carl Amos, agrees the big challenge for a big convention centre here would be encouraging delegates to travel overseas although the opposite also applied - Kiwi companies were more inclined to stay in New Zealand.