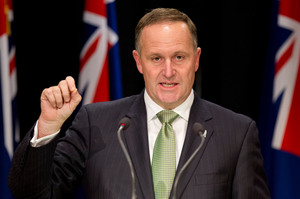 Prime Minister John Key has dismissed builders' concerns that new Reserve Bank mortgage lending limits will reduce the number of new homes being built.
The Reserve Bank's new mortgage restrictions come into force today limiting the number of high loan-to-value ratio mortgages banks can lend.
Banks will be required to restrict new residential mortgage lending at LVRs (loan-to-value ratios) of more than 80 per cent to no more than 10 per cent of the value of their new housing lending, meaning most would-be home buyers will need a 20 per cent deposit.
Builders reported inquiries about new home builds had slowed before the changes kicking in.
Master Builders' chief executive Warwick Quinn said he had received calls from builders who had lost clients when the Reserve Bank announced the changes.
"If they're continuously seeing work slipping away from them, there is extra financial pressure and some may indeed be affected where they can't survive."
Mr Quinn estimated 15 per cent of the 20,000 newly-built homes sold around the country annually were for customers who required high loan-to-value lending, many of them first-home buyers. Mr Key yesterday said: "I don't think that's right".
"I can't for the life of me see how it will affect home building."
While Mr Key accepted the policy would cause hardship for some home buyers, "the view of the Reserve Bank is that by taking these steps it's likely that they can increase interest rates on a slower track, that's to the benefit of all New Zealanders".
Labour leader David Cunliffe said the restrictions would lock hard-working young people out of the property market.
Statistics NZ data yesterday showed growth in housing consents appeared to be flattening after two years of growth.
Consents were issued for 1633 new houses and 127 new apartments in August, 55 per cent of which were in Auckland and Canterbury.
Home loan restrictions
Why has the Reserve Bank put loan-to-value ratio (LVR) lending restrictions in place?
It is worried that the increase in high LVR lending combined with rising house prices will place the financial system at risk.
How does it increase risk?
As shown in the US in the lead up to the Global Financial Crisis, high LVR lending helps push house prices higher. In the event of a financial shock, high LVR borrowers are more likely to default on their loans and suffer losses when the value of their home falls below its market value.
How effective will the restrictions be?
Reserve Bank modelling suggests it could reduce house price inflation - currently running at 9 per cent - by 1 to 4 percentage points.
How will it affect first home buyers?
The Reserve Bank says 8000 first home buyers may be affected. They could suffer financial costs by staying in the rental market if house prices continue to rise.