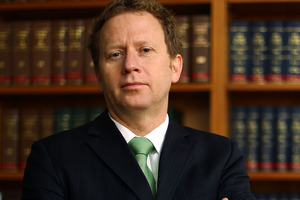 To the Greens, China has laid down a challenge to the sovereignty of the New Zealand Government every bit as serious as that from the United States over nuclear weapons in the 1980s. Party co-leader Russel Norman says Beijing's demands are being spelled out during the visit of Jia Qinglin, China's fourth-ranked leader. "The Chinese Government is putting pressure on New Zealand to loosen our overseas investment rules through a top-level diplomatic visit," he says. He claim it wants, particularly, for the deal for the Crafar farms to be settled in favour of the Shanghai Pengxin company.
Proof of this, says Dr Norman, is provided by an Opinion article written by Mr Jia, which was published yesterday in the Herald. In it, Mr Jia does call on New Zealand to provide a policy environment that would make it easier for Chinese investment.
This is all the normal stuff of diplomatic lobbying. But in the world of the Greens, it is somehow inordinate.
It is as though they believe New Zealand politicians do not seek to advance the country's interests when they visit foreign capitals.
Listening to the Greens, it could also be thought that one of China's most senior figures has followed the Crafar farms saga in great detail, so much so that he is now prepared to place "enormous pressure" on the ministers making the final decision. This, again, seems fanciful. In pursuing the interests of a country with a fifth of the world's humanity but only 7 per cent of its arable land, Mr Jia's interests are surely far wider than one farm deal.
The Greens should have read his comments with a rather more open mind. Had they done so, they would have found plenty of encouragement for the future development of trade between New Zealand and China. Mr Jia refers to the "smooth implementation" of the ground-breaking free trade agreement signed in 2008 and the need for both countries to make good use of it to meet ahead of schedule a trade target of $20 billion by 2015.
China, he indicates, also wants a broader relationship. "While deepening co-operation in such traditional fields as agriculture, forestry and animal husbandry, we should actively explore new areas of mutually beneficial co-operation and expand co-operation in food safety, clean energy and infrastructure development." China welcomed New Zealand companies to invest there, and also encouraged "capable and credible" Chinese companies to invest in New Zealand.
Voicing the sentiment that irks the Greens, Mr Jia says "we hope New Zealand will provide them with an enabling policy environment and facilitate Chinese investment so as to scale up two-way investment and achieve all-round and balanced growth in our business ties".
In terms of that balance, he could have been thinking of Fonterra's plans, announced last Friday, to spend $100 million on two more farms in China's Hebei province. This is part of the co-operative's ambition to set up an integrated milk business in China that taps a growing middle-class demand for high-protein food. It wants its farming hubs throughout the country to be producing up to 1 billion litres of high-quality milk every year by 2020.
Clearly, Beijing is keen to welcome New Zealand expertise. Its implication in the contaminated milk scandal that swept China soon after the free trade pact was signed has had no long-term effect. And the opportunities for New Zealand businesses will only increase as the tariff conditions attached to the agreement become ever more favourable. They should be seized.
In sum, Mr Jia's confirmation of China's continued enthusiasm for strengthened links with this country should be seen in a positive light, not as some sort of threat that bears little relationship to reality.