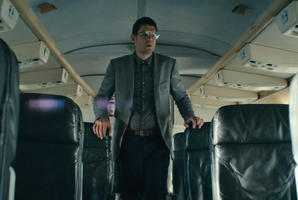 The New Zealand International Film Festival is always a great place to check out rising local film-making talent via short films.
This year the festival is offering New Zealand's Best 2012, a collection of six short films.
They have been chosen from 109 applications and will feature in the festival's only competition - a jury will select the winners of the $5000 Madman Entertainment Jury Prize and the $3000 Friends of the Civic Award; and the winner of the audience vote takes away 25 per cent of the box office from the festival screenings.
Among the six, director Campbell Hooper's 43,000 Feet is a unique take on the thoughts of a man falling from that altitude; Night Shift, from writer/director Zia Mandviwalla, tells the heart-wrenching tale of an airport cleaner; Milk & Honey, from writer/director Marina Alofagia, is an eerie recollection of the dawn raids on Pasifika familes in the 1970s; Home, from director Thomas Gleeson, observes a house on a road trip; Ellen Is Leaving, from director Michelle Savill, observes impending traveller Ellen packing and recycling; and Lambs, from writer/director Sam Kelly, is a strong and uncompromising portrait of confusion and tenderness in a tough world.
The New Zealand's Best 2012 collection screens at SkyCity Theatre on Saturday, July 28 at 6.30pm, and again on Monday, July 30 at 2pm.
- TimeOut