Prolific German film-maker Werner Herzog talks to Peter Calder about his latest confronting documentaries, a study of death row inmates in American jails.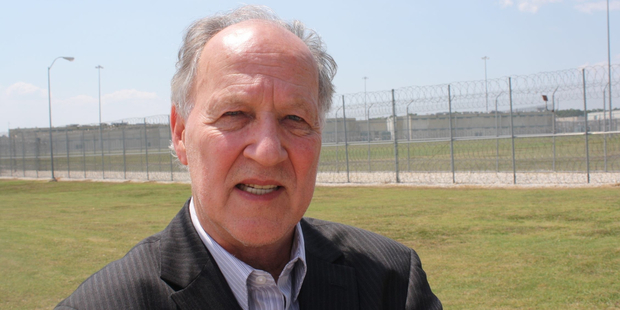 When the Grim Reaper finally comes for Werner Herzog, it may seem more like a reunion than a surprise.
Death - or the risk of it - is a recurring theme in the work of the 69-year-old German-born film-maker, both in the shoots and the finished products: a crew member on the crazed 1982 masterpiece Fitzcarraldo cut off his own foot with a chainsaw after a life-threatening snake-bite. The 2000 documentary Wings of Hope was about the sole survivor of a plane crash in the Peruvian jungle; Herzog was ticketed to be on the flight.
In 2006, while doing an exterior shot for a BBC TV interview, he was hit by a bullet fired by a passerby. He later displayed the "not significant" bleeding wound in his abdomen, remarking enigmatically that he was "not surprised to be shot at".
But nothing he has done confronts death as directly as his latest work: a quintet of documentaries - a full-length feature called Into the Abyss and four 50-minute television films collectively entitled Death Row.
Each film minutely anatomises a case of capital murder and is carefully constructed around an interview with the killer or killers as they await execution.
The films adopt an eerily clinical (and characteristically Herzogian) detachment: although he makes it quite plain that he "respectfully disagrees with" the death penalty, he is less interested in capital punishment as an issue than in what he calls "the deep dark ocean of barbarism that lies beneath the surface layer that we call civilisation".
"The films take a vertical look deep into the dark recesses of the human soul," he says, speaking by phone from his home in the fabled Laurel Canyon in the Hollywood Hills. "I think this is something you find in all my films: fiction films, documentaries, all of them. I am not in the polemic business."
Neither is he an advocate for individual causes: he baldly tells one of his subjects that "what we are doing here is not an instrument for proving your innocence" and another that "sympathising with your quest for procedural justice does not mean that I have to like you".
The films are notably flexible in focus: a death chamber operator, quitting after 150 executions, vows "I can't do it no more" and adds that "no one has the right to take someone else's life". And, in one of the weirdest scenes in Abyss, he asks a death row chaplain to describe his recent encounter with a squirrel. The human souls he peers into are on both sides of the bars.
"It's an American Gothic, really," he explains, "a tapestry of story about a senseless crime. I think the crime is the epicentre. All these crimes are so senseless and nihilistic that they still puzzle me. But the films are much more a look into the way we live and the way we die. Death row inmates are the only people who know when and how they are going to die. They know every step of the protocol. So the film enables us to reflect on ourselves: what does it mean to be able to open and close a door? How do we experience time or solitude?"
Having told the condemned men - and one woman - that he did not have to like them, did he have an emotional response to them anyway?
"It's hard to answer that. I respect every single one as a human being - and I mean really respect. I know they are going to die, but they are not monsters. It's obvious that their crimes are monstrous but the perpetrators are human beings."
This point is underlined in an interview with a DA, who has ice where her soul should be. She warns him about the danger of humanising one of his subjects. "I do not make an attempt to humanise her," he responds sharply. "She is simply a human being, period."
The process by which one film turned into five was straightforward, Herzog explains.
"Strange as it may sound, it's casting of characters. You have an eye for who will be really good, and that comes from feature film-making. I filmed quite a few inmates on death row because I thought that quite a few would be part of the film and it became clear after two days of shooting that the whole crime was such a nihilistic and incredible story that it had to be completely separate. I tried editing people who had committed other crimes into the film and it was immediately clear it was way too complex."
But he says the process of interviewing was hideously intense.
"Every inmate you see in the films I have not spoken to for more than 60 minutes - many I met for half an hour. So almost everything ends up in the film. I have hardly any additional footage.
"These were people in situations of great stress and I had to find the right voice to do it the right way. I think I have never experienced such intensity in making a film as Into the Abyss. You can see it in the film, in every moment. Both the editor and I started smoking again when we were confronted with the footage."
Herzog's films - these five take the tally above 60 over 50 years - are distinguished by a dazzling range of subject matter. Fictional stories have been about an 18th-century glassblower, an Irish rubber baron who wants to build an opera house in Amazonia and Australian aborigines' fight against miners; documentaries have focused on Antarctica, the ravaged oil fields of Kuwait after the first Gulf War and a male beauty contest among Saharan nomads.
But the man himself says more unites his films than divides them. "If you look at the films in their entirety there is a coherent world-view. You can see any part of any one of my films without a title or a credit and within two minutes flat you will know this is my film."
And there seems no end to the depth and breadth of his creativity: he's directed 18 operas - including Lohengrin at Bayreuth - and his installation at the Whitney Biennial in New York has just closed. He plays the villain opposite Tom Cruise's Jack Reacher in the Lee Child hero's big-screen debut at year's end and is preparing to shoot Queen of the Desert, in which Naomi Watts will play Gertrude Bell, the female counterpart to Lawrence of Arabia.
Herzog's unsmiling visage and uninflected speaking voice might invite the assessment that he is a grim person. But he says that impression is "the wrongest of the wrong".
"Audiences in my films laugh a lot. There is a lot of humour, including in Into The Abyss. It is a subversive humour, even a dark humour, but it is undeniably there because I see audiences laughing so hard."
Plainly some people get the joke: online Herzog spoofs abound - of him reading the kids' book Curious George or writing a note to his cleaning woman which includes the words "The situation regarding spoons remains unchanged. If I see one, I will kill it."
"I enjoy all this wild invention," he says. "Sometimes I will even add a detail to make it more authentic. It is good that they are all out there. They are like my bodyguards. They can take the brunt."
And if he has a preoccupation with nihilism it does not mean that he is nihilistic.
"It always surprises me that people try to draw conclusions from my films about who I am almost as if I were a character. In the Cruise film I play a really scary villain but if you ask my wife she will immediately tell you I am a very fluffy husband."
What: Into the Abyss and Death Row, a showcase of Werner Herzog's docos about death row inmates in American prisons
When: Various times and cinemas from Sunday July 22. See nzff.co.nz
- TimeOut