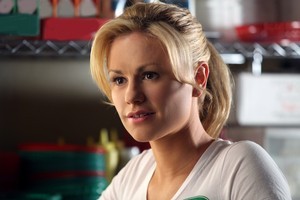 TV
After running away with her fairy godmother at the end of last season, Anna Paquin is back as Sookie Stackhouse in the new season of True Blood on Monday night.
Meanwhile, TV One launches its new local drama series, Nothing Trivial, which should tap into the competitive streak of viewers as it is set around a pub quiz.
For a "reality" fix, there's the new American singing contest The Voice on TV2 which merges the idea of blind dates with a singing competition, judged and mentored by Christina Aguilera and Maroon 5's Adam Levine, among others.
MUSIC
Kids, get your punk on at Rise Against at the Logan Campbell Centre tonight or, if that's not your thing, then you should find it at Edgetravaganza at Hamilton's new Claudelands indoor arena on Saturday. And good news for Thirsty Merc fans who can't make it to the arena fest, you can see the Aussies in Auckland before they head to the airport.
If you weren't lucky enough to have pocketed tickets to one of The Adults' sold-out shows at the Bacco room this weekend, either head to the Tron to see them, or indulge in the sound of other Kiwi acts playing around the traps tonight. Artisan Guns and Ruby Frost perform at the Basement and Grand Rapids with Victoria Girling Butcher at the Kings Arms.
MOVIES
If all the Potter madness makes you want to disapparate, the New Zealand International Film Festival, which opens today, should cater to your discerning romantic, documentary, historical, animation and troll-like needs.
The world premiere of Florian Habicht's dreamy New York romance Love Story, opens the festival tonight, and period film Mysteries of Lisbon, political drama Incendies and Terrence Malik's Palme d'Or winner The Tree of Life are among the list of must-sees showing this weekend.
OR...
It's that time of year again and attractions like the Auckland Museum, Auckland Zoo, Stardome and Auckland Maritime Museum are laying on the school holiday fun.
Visit the whole lot and impress friends with trivia about taniwha, red pandas, the Matariki star cluster and sailors. See their respective websites for more.
- TimeOut