Film festival time is a bonanza for fans of documentary cinema and TimeOut reviewer Peter Calder has previewed 20 or so titles from this year's impressive line-up.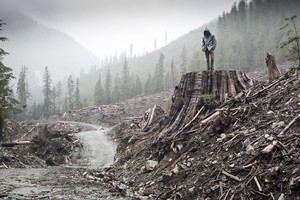 Did you hear the one about the woman who burned herself with a cup of hot coffee she had bought at McDonald's? Of course you did.
The story, which rocketed around the world in the early 1990s, became a symbol of the reflexively litigious American mindset. It seemed to perfectly to embody Americans' refusal to take responsibility for their actions but rather, with the assistance of an ambulance-chasing lawyer, to find someone to blame - and to sue.
Anyone whose knowledge of the coffee case (formally Liebeck v McDonald's Restaurants) comes from Seinfeld or David Letterman will find the documentary Hot Coffee, screening in this month's film festival, an eye-opener. The plain facts are eye-opening enough - almost nothing you "know" is true - but director Susan Saladoff uses the Liebeck case as the basis for a much wider discussion. A former medical malpractice lawyer and first-time film-maker, she examines big business' attempts to obtain "tort reform" - caps on damages awards in civil cases. And putting the spin on stories like Stella Liebeck's is just part of the campaign.
In a world where shrinking editorial budgets mean investigative journalism is increasingly replaced by celebrity trivia, independent documentary film-makers are democracy's busiest champions. Hot Coffee, which premiered at Sundance and played on US television barely a week ago, is one of several documentaries in a line-up as strong as I can remember that speak truth to power while challenging audiences' preconceptions.
It's a pleasure to report that the best documentary on the programme is local: Annie Goldson's exquisitely restrained Brother Number One. Its main character, the Olympic champion and transatlantic rower Rob Hamill, would surely scoff at the idea that he is some sort of hero and Goldson's patient and watchful film makes no attempt to lionise him.
But as he follows in the footsteps of his big brother Kerry, murdered by the Khmer Rouge in Cambodia in 1979, and confronts the man who presided over the slaughter, he emerges as the epitome of great Kiwi virtues - loyalty, integrity, determination. More improbably, he's also a man who isn't afraid of facing and generously expressing his deepest feelings. He's a knockout and the film is too.
Close behind is Buck, another film about a man dealing with deep pain. The main character, Buck Brannaman, is the horse whisperer who wrangled The Horse Whisperer, and is constantly on the road with a touring clinic for owners of skittish colts. As we learn about his childhood of scarcely believable brutality, we gradually come to realise that there may be a link between his past suffering and his present success: his pain and his work have combined to make a man with the wisdom of a Zen master.
It's axiomatic that the best documentaries, like all the best films, feature unforgettable main characters. Buck is perfect proof of the rule.
Sports films stand out in this year's programme. Fire in Babylon may be the first festival film with cricket images since Forest Whitaker proved Americans can't bowl in The Crying Game two decades ago but the best thing about it is that you don't need to know or care much about cricket to get it. Babylon is the Rastafari word for any oppressive power structure but particularly that of the former British Empire, and the film is actually a kind of post-colonial heroic saga, tracing the ascent of the West Indian cricket team from international wooden-spooners to the high-speed bowling machine that carved up world cricket in the 1970s.
An exciting inclusion in the sports section is the latest film by the prolific Frederick Wiseman, a pioneer - if not one of the inventors - of fly-on-the-wall docos. In Boxing Gym he simply hangs around a small, down-at-heel gym in Austin, Texas and watches as its members go about their business, apparently oblivious to his presence. It sounds dull but, once you surrender to its rhythms, it's engrossing, even mesmerising. Now 81 and approaching his 50th year of documentary-making, he just seems to be getting better.
Environmental concerns are another thematic thread. The friendly face of wind power turns distinctly ugly in Windfall which visits a small rural community in upstate New York and finds big energy companies, local farmers and lifestylers locked in combat. As the film gives us a frontline view of the conflict, it explodes a few myths along the way: turns out that the environmental impact of making, never mind operating, behemoth 130m towers whose blades make the very air vibrate is not quite what friends of the Earth might have in mind.
If a Tree Falls is, like Hot Coffee, another of the documentaries that dare us to leave our preconceptions at the door. It's a masterful piece of work about a member of a radical group called the Earth Liberation Front, which considers attacks on property - never people - an entirely legitimate tactic in a campaign to stop the clear-felling of native forest. Like many such documentaries, it never really gets to grips with the competing economic arguments, but it certainly grapples with some profound political and moral ones - and it sets a new standard in documentation of cold-blooded police brutality.
Anyone who thinks they have easy answers to the questions this film raises is probably asking the wrong questions.
Also highly recommended
Bobby Fischer Against The World: All these years later, it's still hard to believe that a chess game in Iceland knocked Watergate off the top of the TV news, but that's what happens when the Cold War is being fought by proxy. And who knew what happened next?
A Matter of Taste: Not so much a film about chef Paul Liebrandt, an Englishman in New York, as of the make-or-break influence of the Times critic on that city's restaurants. Fascinating.
Jiro Dreams of Sushi: By contrast, this is a terrific portrait of the 85-year-old artist and gets as close as you can to the arcana of the sushi chef as you ever will, even if you pay $450 for the 20-minute, 15-piece experience at Sukiyabashi Jiro. Enthralling.
Magic Trip: This actually gets you on Ken Kesey's legendary 1964 bus trip, thanks to the patient assemblage of old (silent) footage and non-synced audio. When you see Neal Cassady driving, you have to wonder how the hell they made it to the Nevada border, never mind New York.
How to Die in Oregon: A valuable addition to a growing catalogue of excellent documentaries about euthanasia. It's tender, sad and entirely free from polemic as it documents how things work in a state that legalised death with dignity in 1994.
Pink Saris: This introduces one of the documentary section's most indelibly memorable characters: Sampat Pal Devi, a campaigner for women (particularly from the Untouchable caste) is a no-nonsense firebrand, the human equivalent of a force-nine gale. She's passionate all right but she's also manipulative, controlling, jealous and vain. And she makes you want to yell "you go, girl!"
- TimeOut