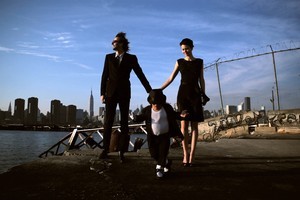 The New Zealand International Film Festival has announced four New Zealand features and a local retrospective for its 2011 programme.
The Auckland Festival will open with director Florian Habicht's Love Story at The Civic on July 14. The film is part romantic comedy, part documentary as Habicht searches for love in New York.
On opening the festival in Auckland Habicht says, "I always see the world premieres of my films as births of sorts, and what a birth this one is going to be! Opening night at the Civic, I'm lost for words."
Habicht's previous films include Woodenhead (2003), Kaikohe Demolition (2004), Rubbings from a Live Man (2008), and Land of the Long White Cloud (2009).
"After being told by a fortune teller in New York that he should never step in front of a camera, Habicht of course did just that ... the energy and delight flowing from Florian's film will be a great way to set the festival buzzing in 2011." says festival director Bill Gosden.
The festival also has the world premiere of Annie Goldson's new documentary Brother Number One in its Framing Reality section of the programme.
It follows the journey of Olympian and transatlantic rowing champion, Rob Hamill to Phnom Penh to testify before the War Crimes Tribunal about the killing of his brother, Kerry Hamill, by the Khmer Rouge in 1978.
Among other local docos selected for screening are Daytime Tiger, a film by Costa Botes that captures local writer Michael Morrissey's struggle with manic depression; Park Kiyong's documentary Moving about how the February earthquake impacted on a Korean immigrant family attempting to rebuild their lives in Christchurch; and Mana Waka, the 1990 feature-length documentary directed by Merata Mita, will screen as a tribute to the film-maker who passed away a year ago.
The film is made from footage shot by RGH Manley between 1937 and 1940 of the construction of three waka for the 1940 centenary of the signing of the Treaty of Waitangi.
The full NZ International Film Festival programme will be available in Auckland from Wednesday and will be previewed in Weekend TimeOut on Saturday.
The NZ International Film Festival runs in Auckland from July 14-31, with its main base at the Civic, but with some screenings at SkyCity Theatre, as well as the Academy, Rialto, Bridgeway and Lido cinemas.
- TimeOut