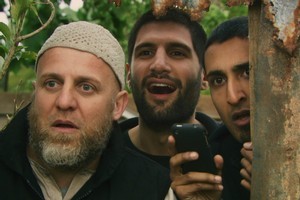 A friend of my wife's just went to Wellington - driving from Hamilton - to see Sir Ian McKellen in Waiting for Godot. Visiting various family members along the way, she became enmeshed in a small crisis which kept her awake all night.
Arriving in the capital just in time for curtain-up, she slept soundly through the play's first half, roused herself at interval and rustled up a quadruple-shot short black before returning to her seat and sleeping soundly through the second half.
To say that she was disgruntled at this state of affairs, particularly in view of the ticket prices, would be an understatement.
She faced specific sleep-deprivation challenges, I know, but staying awake in a darkened theatre can be difficult. It's particularly true in the cinema where the unspooling images (like the text of Godot) are so reminiscent of the dream experience and where it's warm and dark and snug. Particularly if you know you have someone next to you who will elbow you in the ribs if you start snoring, it can be irresistibly tempting to yield to the embrace of Morpheus.
There are films in which I've made a deliberate decision to drop off because it seemed a more sensible way to use the time than watching the screen. (And no, for the benefit of those who feel inclined to find an explanation for my critical acumen, I did not subsequently write a review).
That's seldom the case in a film festival movie but I did fear an outbreak of dozing when I made up for having Wednesday off by watching four in a row at the Civic. Surely, I reasoned, a man of my - er - distinguished tally of years could not make it through a six-hour day of movie watching without sneaking 40.
In the end, I stayed awake without difficulty - a testament to the films I suppose (The Tree; Cyrus; Four Lions; The Wind Journeys) and required only one stiff coffee in the mid-afternoon which didn't even disrupt my later night's sleep.
And, oh, the dreams last night were to die for.