Famous for playing someone famous on telly, Adrian Grenier's own movie about celebrity brought him to town for the film festival. He talks to Jacqueline Smith about his study of life in the spotlight.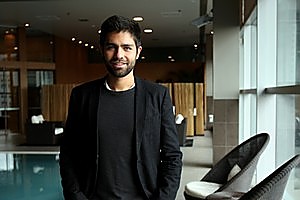 Two and a half years ago, I met Vincent Chase. Night after night, Entourage box set after box set, we rendezvoused in my living room.
This week, we meet again, on the plush couches of a hotel lobby - only this time there is no screen between us.
And he is playing Adrian. I think. Even he gets confused sometimes.
"Yeah sometimes I wake up and I'm like, am I Adrian or Vince? I don't know, I can't quite decide," he says.
Today Adrian looks quite Vince-ish, apart from the distinctively film-director scarf around his neck - and the lack of supporting players.
Actor Adrian Grenier, who has played Hollywood A-lister Vincent Chase on hit HBO show Entourage for the past seven years, is in New Zealand to talk about how celebrity culture permeates society off the screen. How the tabloids document celebrities' lives, or pretend to. How the paparazzi feed those tabloids. And how the public's need to know about celebrities' lives feeds the paparazzi.
He moved behind the camera to direct a documentary on the subject, with a 14-year-old Bieber-faced paparazzo called Austin Visschedyk as the centrepiece. Teenage Paparazzo, showed at the international film festival this week in Auckland, before heading to Wellington.
Ironically, just one New Zealand photographer showed up to snap Grenier when he spoke at his film's screening at Auckland's SkyCity Theatre on Sunday evening.
Grenier watched the documentary with his audience and opened the floor up to questions afterwards.
He didn't seem to mind the angry man declaring modern films were rubbish (he was politely asked to sit down and let others speak) or when another member of the audience asked him whether he felt guilty for exploiting his subject, young Visschedyk.
Not your average encounter with the fans.
Perhaps that's what you get, a hemisphere away from the blinding flashes of Hollywood paparazzi. Or maybe that's the upside of the paparazzi's invasion of celebrity's lives - now we see them as regular people who just happen to have very public jobs.
Raised by a solo mother in New York, Grenier began landing supporting roles in the late 1990s, including playing one of Leonardo DiCaprio's entourage in the little-seen Woody Allen film Celebrity. He played a love interest in 1999's chick-flick Drive Me Crazy, and later starred in the music video for Britney Spears' song of the same name. In 2006, he starred as Anne Hathaway's down-trodden boyfriend in The Devil Wears Prada.
But the paparazzi really started taking an interest when Entourage, which started in 2004, gained a cult following. All of a sudden, his life began to mirror that of his character's.
Grenier admits he may have shot himself in the foot, as his documentary depicts celebrities as regular people who just happened to be overly photographed.
"There are some celebrities who perpetrate the illusion that they are somehow different or worthy of the attention they fall on to, but I think a lot of people also don't care anymore."
Unlike his documentary's subject Visschedyk, Grenier says he did not want to be famous when he was a kid.
"I always resisted it, which is ironic, because I walked right into it through Entourage. I had been given a couple of opportunities to do a few films and it scared me that I might have that level of exposure."
However, he did always know he wanted to direct films, and made really "out there" home movies with his mates.
"If YouTube had existed when I was growing up there would be a lot of stuff that may not come back to favour me because we were pretty wild kids," he recalls."Maybe I would have been a YouTube sensation."
The internet certainly makes for strange times in the celebrity world- blogs, YouTube, fan sites and Twitter are making the famous more famous, while also giving regular people their own slice of the fame-pie. Grenier is clearly concerned about this, calling fame "psychologically taxing" and a "disconcerting neurosis".
It's about this point that I can finally separate Grenier from Vincent Chase. I ask whether he finds it difficult to be himself, or if he finds he is always playing a character.
"We could get into the conversation where I believe that everyone performs a version of themselves on a certain level, especially with the training we have with the media," he says, then explains the emphatic hand gesture that he's been making during the interview.
"Somewhere along the line I decided this [gesture] looked cool and I just started using it. It makes what I'm saying more legitimate because it's emphatic - so I don't know where it begins and where it ends.
"We all have an opportunity to perform our lives, and now, thanks to the internet we can perform it and put it up for everyone to watch."
Grenier hopes his documentary will help widen the scope of this discussion. He encouraged his Sunday audience to become the paparazzi, asking them to pull out their mobile phones, take a photo of him on the stage and then one of themselves sitting in the theatre, and post them to the film's website, teenagepaparazzo.com.
Yes, this is an age where anyone can Austin Visschedyk themselves, plastering narcissistic images for their fans on public sites like Facebook.
Unsurprisingly, Grenier rarely feels the need to post images to his Facebook page.
"I had a friend who said, 'You are so lucky you have all these people conspiring to take pictures of you and put them everywhere. You don't have to do anything'," he says.
"It's like a photo album. You live your life through the tabloids and the papers, they archive your life for you."
He keeps tabs on his name's movements in the media through his email's Google alerts and his mum keeps up with the tabloids. There was a funny scenario a few years back when he fabricated the rumour that he was dating Paris Hilton to illustrate a point in his documentary. "My mum was asking, 'What do I say, everyone's asking, are you dating Paris?"'
Grenier insists that despite the tabloids' hounding him, he does appreciate publicity.
"It's a useful tool. As a film-maker, and as an actor, I need people to be interested in what I'm doing."
But being papped is one thing; I ask whether he likes being interviewed - he's been speaking to radio networks since 7am and a television crew is waiting outside.
"It's weird, talking about the same thing. Sometimes you'll leave your body, step outside, and be looking in at yourself going, 'What are you talking about, don't say that'."
And what about the fact that audiences not only want to know what celebrities think of their latest acting project, for example, but also where they party, what they wear to the letterbox and when they do and don't choose to wear underpants? Grenier says it's just part of the idea of new celebrity - being part of the entourage.
"Entourage in particular is about this group of friends who are really chummy, whereas back in the day celebrities were these elusive, untouchable figures.
"Vince, even though he is a celebrity, is very down to earth and very accessible. People want to be part of the gang."
There's no doubt about it, Vincent Chase does have a very attractive lifestyle - as Grenier says, it's one of indulgence without consequence. So it's no wonder he claims he likes to live vicariously through his Entourage character.
"I get the experience and the wish fulfillment through [Vince]. Sometimes I'll be shooting a scene and I'll be full-on jealous of what he gets to do."
LOWDOWN
Who: Adrian Grenier
What: Plays Vincent Chase on Entourage
When and where: Wednesdays, 11.45pm on TV2
Latest: Director of Teenage Paparazzo, a documentary about Austin Visschedyk, Hollywood's baby-faced paparazzo