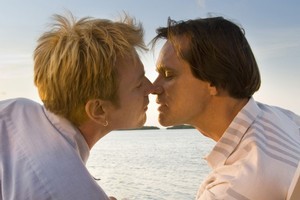 Three in a row yesterday including a bravura performance from Jim Carrey as gay conman Steve Russell in I Love You, Phillip Morris. The title might have suggested a film about the tobacco industry, but this was a based-on-fact story about a real man, adopted at birth by conservative Southern Baptists and, after he came out, embarked on a career of fraud that was probably less hilarious than it seemed on film.
It's tempting to regard Carrey's decision to take this role as brave, though I rather think that he is in a position to do what he wants now. His multiplex constituency will never see it - it hasn't screened outside festivals in the US yet and when it does release in October it will be in art houses in the big three cities; I'd be surprised if it's seen here again.
With this film, Carrey joins a select group of big stars - Julia Roberts and Jennifer Aniston are others who spring to mind - whose extraordinary acting skills have been hidden by the fact that they quickly became a brand, subsumed into a industry much larger than their skill. Paired with the equally unlikely blond Ewan McGregor as his lifelong love, Carrey turned in a funny, edgy and tender performance in a film as funny as it was intensely moving.
I was a bit puzzled by Certified Copy, the new film by Iranian maestro Abbas Kiarostami, which seemed to me an uneasy collision between European and Eastern sensibility, reality and fantasy with a script that seemed to have been written by Google Translate. But I Travel Because I Have to, I Come Back Because I Love You was a most unusual and rewarding film, a sort of video diary by a depressive geologist scouting a canal route in northeast Brazil; apart from the fact that it took me back to a part of the world where I spent some happy months in the 1970s, it was a film which understood the essential truth that true travel - as distinct from tourism - is a constant process of fending off melancholy.