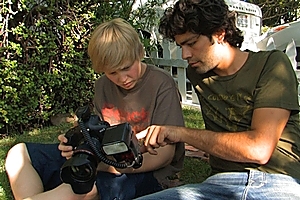 Hollywood heartthrob Adrian Grenier is best known for playing the role of a celebrity on hit television show Entourage, and in both his on- and off-screen lives, he's constantly bombarded by paparazzi flashbulbs. He talks to Laura McQuillan.
It was being snapped by pint-sized paparazzo Austin Visschedyk which led Grenier to the other side of the camera lens, directing new documentary Teenage Paparazzo, in which he also stars.
Visschedyk, a precocious, blonde 14-year-old, not much bigger than the camera he wields, is the focus of the film, which offers an inside look at the relationship between the photographer and the photographed.
Grenier says the film was inspired by his "hall of mirrors" life: he's a real-life celebrity, playing the character of celebrity Vincent Chase in Entourage - a role based on the life of yet another celebrity, the show's executive producer Mark Wahlberg, himself a rapper-turned-actor.
The world of celebrity and paparazzi is something that fascinates everyone, Grenier says.
"I had to make it, I was always compelled to make it," Grenier says of Teenage Paparazzo.
After his first encounter with Visschedyk, Grenier began joining the snapper as he received tip-offs about where celebrities were eating or partying, and as he rushed to take their photos - with his parents dropping him off around Los Angeles to get his shot.
The actor also picked up a camera to snap of fellow celebs, but the paparazzi were reluctant to let him into their exclusive group.
One female pap told the actor she didn't want to be filmed for the documentary because she was not dressed up - while waiting outside Grenier's house in hopes of shooting him in his trackpants.
Others start to shun Visschedyk when Grenier tries to join their pack, saying unlike celebrities, they deserve their privacy.
Despite the late hours, and the fact he puts his job before his homework, being a paparazzo is an opportunity the home-schooled teen's parents are happy for him to take up.
Visschedyk shows the audience he can hold his own on the streets of LA, while using his age and appearance to his advantage, getting special treatment from celebrities such as Paris Hilton who pose for the teen a bit longer to help him get his money shot.
"He might have some advantages because he's cute, but at the same time he has to fight for his position amongst these really big, burly, aggressive men," Grenier says.
Not only did Grenier pick up a camera and become a pap during the film, but Visschedyk became a star - being interviewed by the news media, and offered his own show on E! channel.
Grenier takes responsibility for creating a celebrity-obsessed monster, and asks his audience to learn a lesson from the film, and talk about tabloid culture and how it runs their lives.
"Let's explore what [celebrity] means in our lives. What it is about it we really want? Do we really want to know about Brangelina's latest panty purchase?" he says.
"I'm really excited about the further conversation. Once people see the movie I want them to start talking and say what they feel and think because this is really the beginning of a conversation about empowerment."
The film, Grenier's second documentary (his first, 2002`s Shot in the Dark, followed the actor's search to track down the father he never knew), gave Grenier the opportunity "to take control" of a project, like Visschedyk does through photography.
"As an actor, you're always waiting for other people to give you a role as a director, I don't have to wait for anybody. I can go out and I can own my own experience. I can be autonomous."
His venture into the world of what paparazzi do has also given Grenier a newfound appreciation of having his picture taken.
"You gotta get the shot, it's just about the shot," he says.
* Teenage Paparazzo is showing in the New Zealand Film Festival, on now
-NZPA