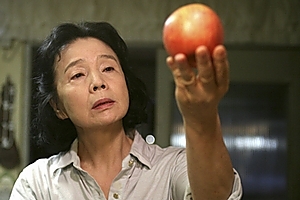 Another perfect sunny day, Pity I spent most of it indoors. But I was amply repaid by two films - Czech and Korean - both in their different ways about memory. *
Kawasaki's Rose by the Czech maestro Jan Hrebejk was a wonderfully nuanced and modulated look at the legacy of Communist rule through the story of one family some of whose members are trying to unearth the past while others are determined to forget it. A fine ensemble in a film that was smart enough to know history doesn't deliver happy endings.
Even more affecting was Poetry, driven by an absolute tour-de-force performance by Korean actress Jeong-hee Yoon, as a shy, frail sexagenarian who faces down with quiet grace a problem that should have destroyed her and that everyone else is wanting to forget as quickly as possible. Slow and tender, utterly engrossing, it was one of the standouts of the festival for me so far. Both of these films have further screenings scheduled.
Bumped into the always-entertaining sports writer Chris Rattue as I was walking out of the Hrebejk and he asked something that has often puzzled me: why do audiences almost always applaud at the end of a festival screening?
"If they saw this same film a few months after the festival at the Rialto or something, they wouldn't applaud," he said.
He's right, of course. I've not known audiences at films on general release to applaud - except occasionally in the case of a bracingly polemical film on a highly charged subject, or at the premiere (particularly of a Kiwi film) where cast or crew are in attendance. But at the festival it's common.
Several explanations suggest themselves. The most obvious is that it is, like all applause, an expression of appreciation - but, as Rattue says, we appreciate movies the other 50 weeks of the year and don't clap.
Other theories: it's an excited expression of relief that we picked a good film rather than a dud; it's a burst of self-congratulation about our impeccable taste; or - and this is what I would like to think - it's a token of thanks to the festival director and his small, dedicated staff, who spend all year busting a gut to try and get the best movies in the world to its most remote outpost.
Any other suggestions?
* The master of memory in festivals past was Patricio Guzman, the expatriate Chilean documentarian whose three-part The Battle of Chile in the 1970s and the sobering Obstinate Memory in 1997 (in which he went back with his films about the Pinochet coup and found a country that had forgotten) are landmarks in political documentary. He's back this year with Nostalgia for the Light, which I got to see before the festival started but after my TimeOut deadlines had passed. A film that achieves an unlikely marriage between astronomers and the bereaved searching for bodies of those murdered by the Pinochet regime (clue: both are examining the past) is as stylistically inventive as it is haunting. Don't miss it.